Trap bars (aka hex bars) are great for making deadlifts more accessible, mainly because they make the lift much easier on the back and spine.
I was recently looking to add a trap bar to my home gym, and I happened to stumble upon a company called Gopher Performance offering exactly what I was looking for – a rackable trap bar with dual handles.
They call it the HexCel bar, and the product certainly lives up to the name.
Specifications
Before getting into specs, I want to say up front that I had a really hard time finding a rackable trap bar with a dual handle design.
Trap bars with dual handles are very easy to find. Practically every company selling fitness equipment today offers one. However, the majority of those products are short bars that can't be placed in a power rack or on stands set up for use with Olympic bars.
For someone like me with limited space, I wanted the ability to make use of my squat stands. Not only to store the bar when I'm not using it, but also to make it easy for me to add or remove weight from the bar between lifts. In addition, a trap bar that can be racked can be used for other lifts like overhead press, bench press, and shoulder shrugs.
Once again, versatility is what I'm going for. I have limited space, so every piece of equipment I add to my home gym has to provide the maximum benefit it possibly can.
This leads me to the dual handles. Although not strictly necessary, the dual handles provide more versatility in how I approach my lifts. As an older guy (43, woot woot!)  with a history of minor back problems, sometimes I want to lift from a higher position in order to save some wear and tear on ye ole' spine. Some days, I prefer the ability to make the lift a little easier than not lift at all.
Having said all that, it wasn't very easy to find a rackable trap bar with dual handles. The HexCel bar is basically one of two options I found, and the HexCel bar was by far the more affordable of the two. Here are the HexCel bar specs:
Dual handle design – high handle is 4″ above the central axis of the bar, while the low handle is in-line with the axis.
12″ chrome Olympic-size non-rotating sleeves
Supports 720 lbs of plates
Rackable!
Black powder-coated frame
Medium knurl
31-1⁄2″W x 78″L
Weighs 50 lbs
Unboxing
The HexCel bar came in a HUGE box that was bigger than my front door. Unsurprising considering the size of the bar, but what really amazed me is that the delivery guy somehow managed to prop it up near my door without making a sound!
I brought the box into my garage to unpack where I had more space. Although the outside of the box looked like it took some abuse, the bar itself was well protected. It actually took me longer to cut up all the packing materials for disposal than it took me to unpack the bar.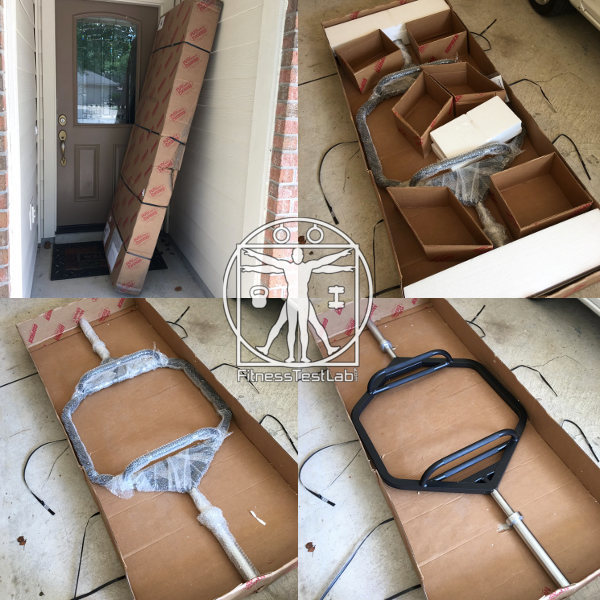 Impressions
Weighing in at 50 pounds, the HexCel bar feels substantial without being cumbersome. It's not much heaver than a regular Olympic bar, and I like that I can easily move it around when necessary, especially since I don't have a lot of room to work with in my spare bedroom, aka the Fitness Test Lab.
The HexCel bar feels sturdy and well made. The heavy welding on the seams look like they could withstand a nuclear blast. The HexCel bar is built like a tank and will likely outlast my ability to use and abuse it.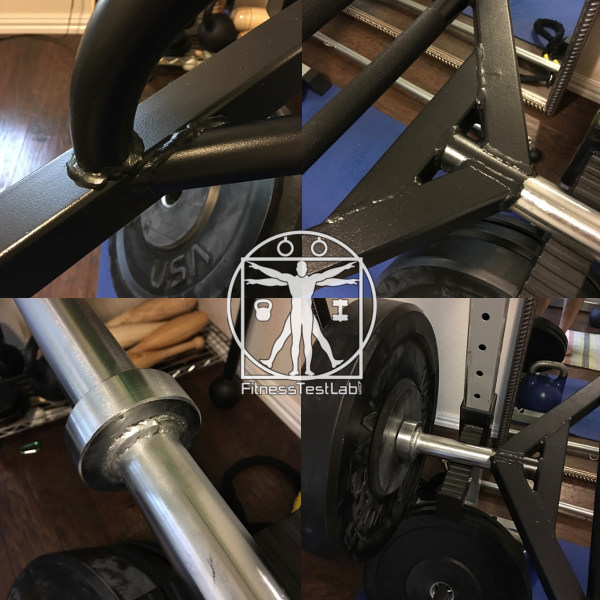 The medium knurling on the handles feels great, but the powder coat has a shiny sheen that feels a little too slick for my preference. We'll see how the finish impacts my grip under real world use.
In case this isn't already abundantly clear, I really like the fact that the HexCel bar is rackable. I use Olympic sized-bars on my BD-9 squat stands and the HexCel bar fits on the stands perfectly without me needing to adjust them in any way.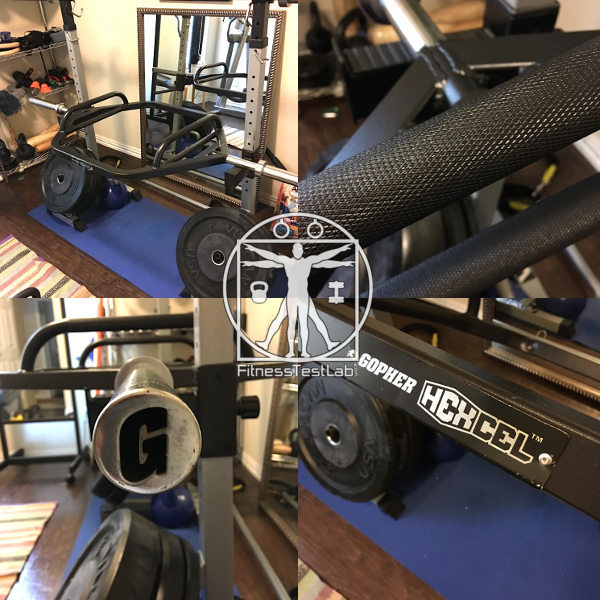 Real world use
I knew I was on to something special with the HexCel bar when the first time I ever used it I pulled 20lbs more on my deadlift than my previous max.
I've been using the HexCel bar consistently over the past month and it works great for deadlifts, shoulder shrugs, and even overhead press. I've read some reviews on other trap bars stating that standard weight collars don't work, but I'm happy to say that my Lock-Jaw collars work just fine with this bar.
I really like the HexCel bar, but I do have one nit to pick. If I could change one thing about this bar, it would be the coating. I'd prefer a matte-finish dry coat instead of the slightly glossy coat currently being used.
My hands get sweaty very quickly when I'm exercising, and while the medium knurl on the handles does provide a decent grip, the finish gets very slick with very little moisture. Slippery hands on a bar are never a good thing, but are especially bad when deadlifting since grip is the only thing keeping the weight from crashing down to the ground.
Having said that, it's not enough of an issue to put me off from using this bar. I've been able to adjust by using a chalk ball to keep my hands dry and the slippery grip is now a non-issue.
Bottom line
The Gopher Performance HexCel trap bar is a sleeper hit in my book. The bar is well made and a great deal when the features versus price point are considered.
There are lots of cheap dual-handle trap bars available, and even a few affordable rackable trap bars without dual handles. But try as I might, the only other rackable hex bar with dual handles I could find was the Rogue TB-2, which retails for $375. Rally Fitness also offers a dual-handle trap bar for $375, but as far as I can tell it's basically a rebranded Rogue TB-2.
At $245 (at the time of this review), the HexCel bar is a no-brainer for anyone looking for the versatility of a dual-handle trap in a rackable form factor that fits in a standard power rack. The Gopher Performance HexCel trap bar will make an excellent addition to any home gym, and I'm happy to have it in mine.
Feel free to ask any questions in the comments if there's something you'd like to know that I didn't cover!
About Gopher Performance
If you've never heard of Gopher Performance it's probably because they focus mainly on institutional customers like schools and universities. However, they do have a retail division that sells to the home fitness market and they have a diverse line of product offerings.
I randomly stumbled across them while scouring the internet for something else entirely, and I'm very glad I did.  Definitely check them out for your fitness needs first, depending on what you're looking for you might end up saving some serious coin.
The following company description comes straight from Gopher Performance:
Gopher Performance is a developer of commercial exercise equipment, formed with the goal of supplying fitness professionals with the very best tools in the fields of strength, conditioning, and athletic performance. Carrying everything from free weights and fitness accessories, to yoga and studio equipment; Gopher Performance is invested in giving coaches and trainers the fitness equipment they need to help everyone attain peak performance.