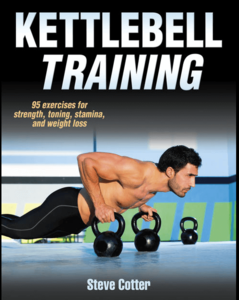 If you're into kettlebells and done any amount of searching online for proper technique, chances are you've at least heard of Steve Cotter. The man is an accomplished martial artist, athlete, and trainer with a knack for breaking down the technical aspects of an exercise into easily understandable chunks. You may have seen him in some of the many YouTube videos that feature him demonstrating proper kettlebell form, or maybe you've come across and read some of his writing on kettlebells and fitness.
As an aspiring kettlebell practitioner hungry for information, I was excited to get my hands on a copy of his book Kettlebell Training. Given Mr. Cotter's credentials and skillful abilities with kettlebells, I fully expected this book to be a definitive guide to using kettlebells. Does it live up to those expectations? Let's find out!
This is a review of the paperback edition
Layout
The book is roughly 200 pages, laid out in the following ten chapters:
The Kettlebell Advantage
Getting Started with Kettlebells
Exercise Principles
Setting Goals, Assessing Fitness, And Training Safely
Warming Up and Cooling Down
Basic Exercises
Intermediate Exercises
Advanced Exercises
Creating a Customized Fitness Program
Sport-Specific Training Programs
There are no sub-chapters, which makes navigating the content difficult. More on that later.
Content
The first five chapters are introductory, oriented toward educating someone who is completely new to exercise on why kettlebells are an effective tool for fitness and how to incorporate them into an exercise regime. In addition to kettlebell history and an overview of kettlebell styles, these chapters include tips on setting goals, stretching, and safety. People who are already well traveled on the fitness path can probably skip these chapters, but there is still value there for anyone who doesn't have prior experience with kettlebells.
The real meat of the book lives in chapter's six through eight, which cover a large number of exercises that can be done with kettlebells. Mr. Cotter goes into great detail on how to properly perform each exercise included in the book, as well as providing a useful list of common mistakes and how to correct them for each exercise.
This is not and exhaustive list of kettlebell exercises though, and the selection + classification of exercises is puzzling. For example – the dual hand swing, arguably the most basic of kettlebell exercises, is not included. Other more esoteric exercises – such as a kettlebell jump squat – are included. The kettlebell snatch, one of the most technically complex exercises that can be done with a single kettlebell, is listed as a basic exercise. After having spent a hefty amount of time learning how to do a snatch properly and earning many bruises on my forearms in the process, I would definitely rate the snatch as an intermediate exercise.
Pros
Mr. Cotter clearly lives and breathes kettlebells and his passion for this tool and instruction definitely comes across in the writing. He goes into meticulous detail in describing the exercises, breaking them down into movements that are easily digestible.
Cons
There are two major cons with this book. The first has to do with indexing, as in the complete the lack of it. I was hoping this book could serve as a handy reference guide for proper kettlebell technique, but alas, there is no master list of exercises that would allow me to quickly flip to a given page to read up on the details. This is a huge oversight that badly needs correction. Hopefully a second edition is in the works with a proper exercise index built into the table of contents.
The second con has to do with the print format itself. Mr. Cotter does a very good job of describing each exercise with lots of pictures to supplement the text, but static pictures and text only go so far when attempting to explain dynamic movements. Second only to live instruction, video is really the best medium for teaching kettlebell exercises. My understanding is that the ebook version is enhanced with video content, but I only have the paperback version so I'm unable to comment on that aspect.
Bottom Line
I really wanted to like this book, but unfortunately I can't recommend it in it's current form. It badly needs an update to include better indexing, and color photos wouldn't hurt either. A second edition would be beneficial, but ultimately you would probably be better off watching Steve Cotter's very good instructional YouTube videos rather than trying to learn dynamic movements from a book.