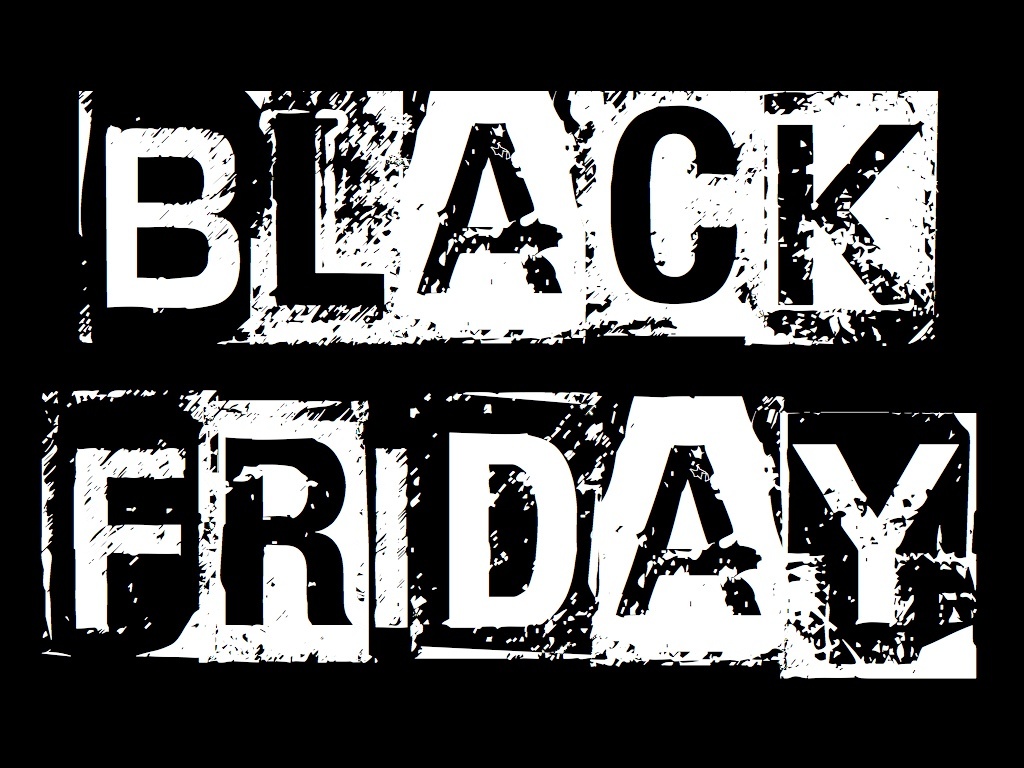 Black Friday is Coming…
Black Friday 2020 is November 27!
Black Friday is hands down the best time of the year to purchase fitness equipment.
Many of the companies making the best gear like Rogue Fitness, Fringe Sport, American Barbell, Kettlebell Kings, and others have better deals on Black Friday than any other time of the year. If you've been looking for equipment, apparel, shoes, etc, I've got you covered.
2020 has been a strange and challenging year, and many of the companies I usually track will either be scaling back their 2020 Black Friday sale or not doing it at all this year.
Regardless, I'll be listing last year's sale info till new details are available. Check back regularly since I'll be updating the list as 2020 Black Friday fitness equipment deals are announced!
Don't leave out your friends and family! Click to share!
Kettlebell Kings Black Friday Deals
Kettlebell Kings specializes almost exclusively in kettlebells, and as a result they are making some of the best products available for home fitness as well as kettlebell sport.
If you've been thinking of buying some kettlebells, Black Friday is a great time to pick up some quality kettlebells at a great price!
Kettlebell Kings is considering a Black Friday 2020 sale depending on stock levels. Check back for more details!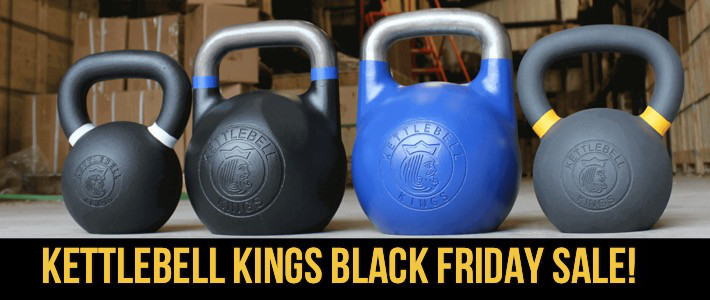 GetRXd Black Friday Deals
GetRXd is putting out great equipment at reasonable prices, with a huge selection of equipment.
GetRXd ran a fantastic Black Friday sale last year, but as most things in 2020 this year is going to be a little different. There will be discounts and sales, just not as many as last year due to limitations on stock.
The GetRXd 2020 Black Friday event is now live and will be running through the end of the month.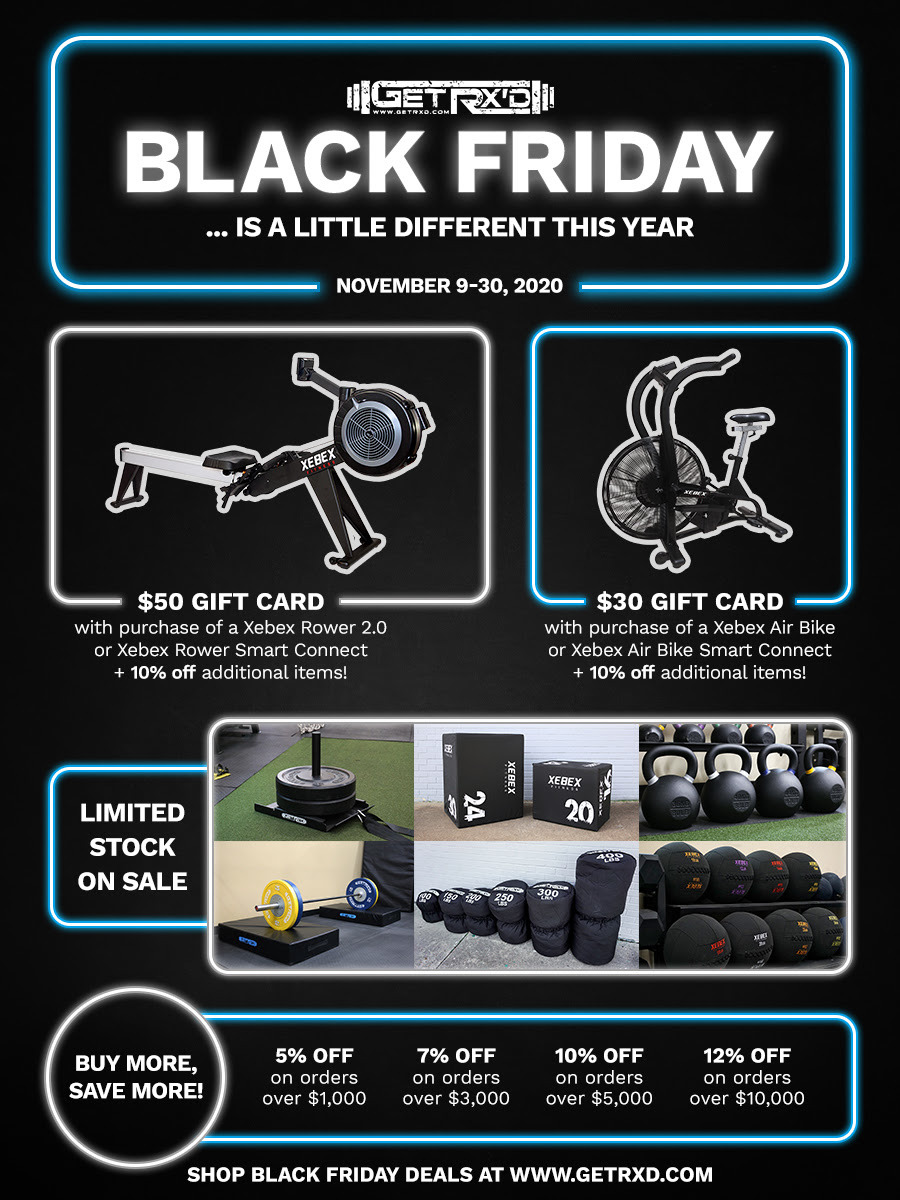 Fringe Sport Black Friday Deals
Fringe Sport is absolutely killing it in terms of quality versus cost with the equipment they're putting out. I have several pieces of Fringe sport gear and it's all stuff I use on a regular basis.
Fringe Sport WILL be doing doing Black Friday / Cyber Monday deals this year, but with limited stock due to supply constraints.
The structure will be similar to last year-
Lightning deals every day from Monday-Thanksgiving
Full sale hits midnight Thanksgiving and ends Midnight Cyber Monday
Massive Lightning deals clustered on the hours on Cyber Monday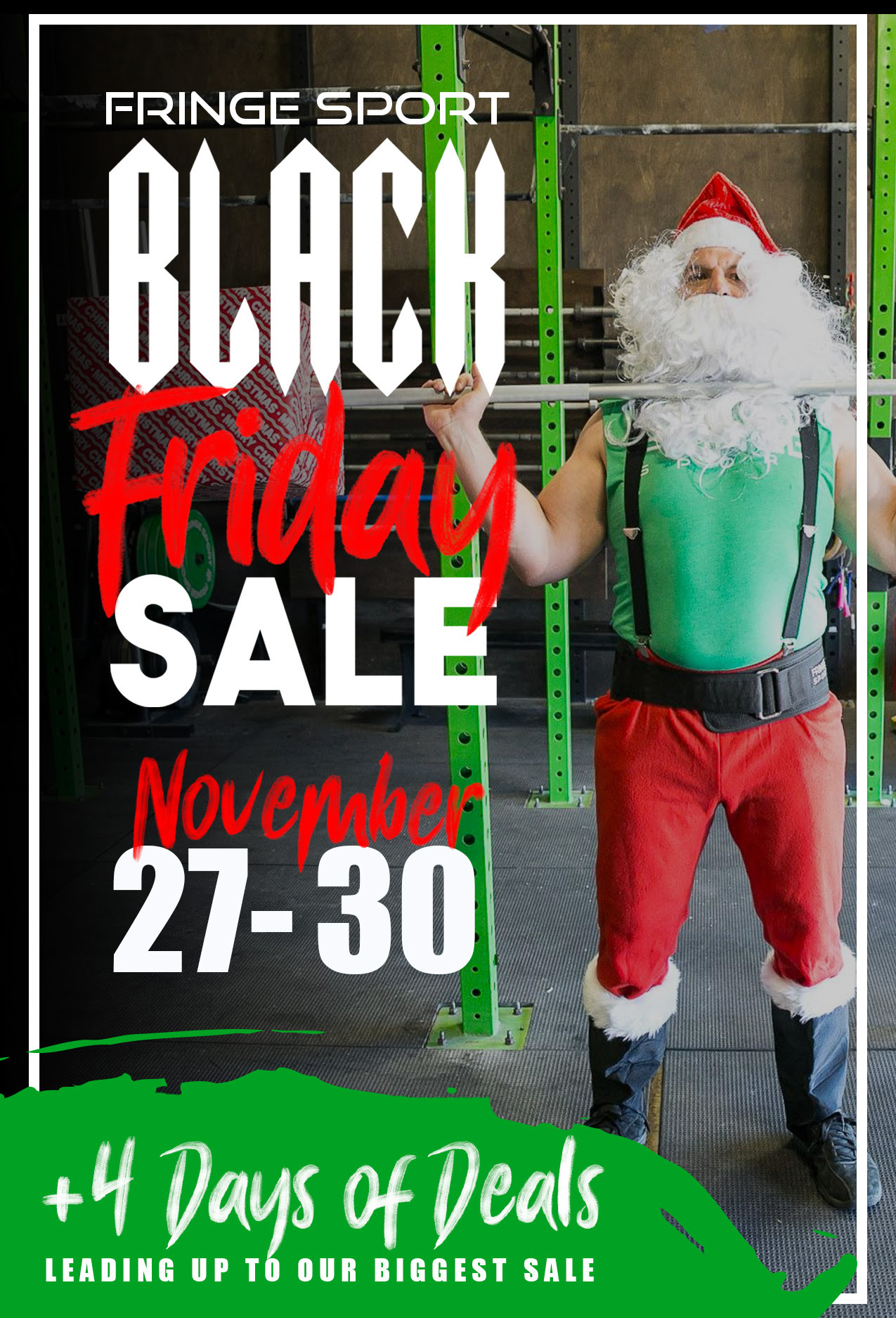 Rogue Fitness Black Friday Deals
Rogue Fitness typically runs one sale a year, dubbed "Matte Black Friday".
Last year they did things differently by introducing "Matte Black November", with sales and special deals that ran throughout the month of November
This year they're changing it up again, but not necessarily for the better. Due to the run on fitness equipment brought about by the 'rona, Rogue has announced they are not doing a typical Black Matte Friday Sale in 2020.
Here is their official statement:
"Straight out of the gate, we are not going to have a full-on Matte Black Friday event this year. The stock on the items we normally run our deals on just isn't there. Since March we have been working very hard to create a safe working environment during a pandemic while increasing our operations capacity."
However, that doesn't mean they won't be running *any* deals, just not at the level they have in years past.
Plus, Rogue is one of the few equipment vendors that has been able to scale up production to try and meet the overwhelming increase in demand, so your odds of scoring some equipment this year are better from Rogue than from most other vendors.
Vulcan Strength Black Friday Deals
Vulcan Strength makes fantastic strength training equipment as well as some innovative kettlebells. I own several pieces of Vulcan Strength gear, including kettlebells, bumper plates, and a powerlifting bar. All of it is top notch stuff and they deserve more recognition than they usually get.
The Vulcan Strength Black Friday 2020 sale is live! Like in years past, Vulcan Strength is running a tiered discount sale where the percentage discount is determined by the total dollar amount in your shopping cart. The greater the dollar amount in the shopping cart, the larger the discount applied to those specified items.
Here are the discount tiers:
5% ($1000 to $2,000)

7% ($2,001 to $5,000)

10% ($5,001 to $10,000)

12% (10,001 to $15,000 )
In addition, they are giving away 50 Vulcan Bravo Barbells! These are excellent barbells for home gym use and will be a definite compliment to your gym. 50 winners will be chosen and announced randomly between now and November 30th. To be eligible to win, you simply need to make a purchase! There is no minimum purchase requirement either, so everyone who makes a purchase gets a chance to win!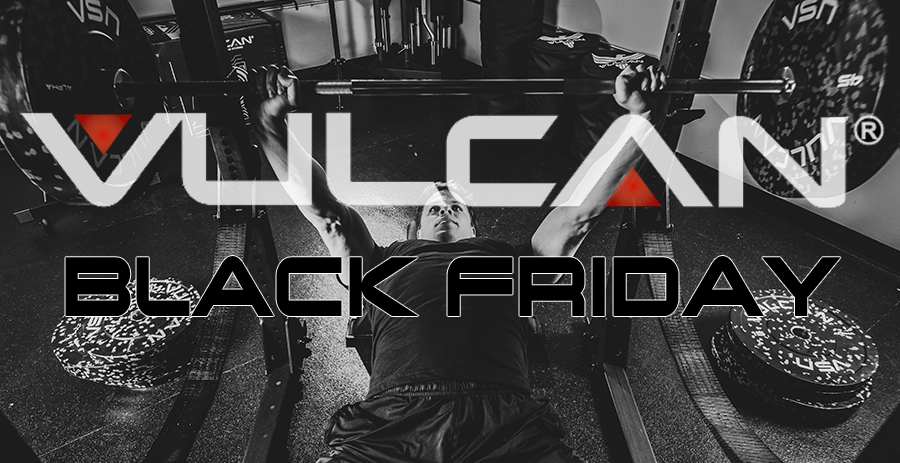 American Barbell Black Friday Deals
In my opinion, American Barbell is currently making the highest quality made-in-USA barbells you can buy.
American Barbell usually has a sale once a quarter, but their Black Friday sale is by far the best. In addition, they are always offering killer deals on slightly blemished and overstock items.
I've not currently received info on American Barbell's plans for Black Friday 2020, but check back often!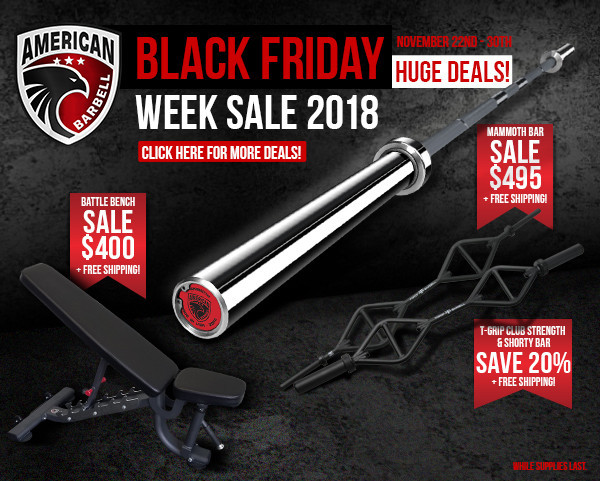 Rep Fitness Black Friday Deals
Rep Fitness doesn't stock as diverse a selection of gear as some of the other companies on this list, but what they do have is good quality at a great price.
Rep Fitness will not be running a normal Black Friday sale in 2020. This is unfortunate, but the stock required to run a normal Black Friday sale just isn't there.
Instead, Rep Fitness will be offering prizes to randomly chosen customers in a promo they're calling the Golden Giveaway!
Onnit Black Friday Deals
Onnit is probably best known for supplements, but they do have a line of unconventional fitness gear as well. I have several steel maces and a set of wooden clubs from Onnit that I use frequently.
2020's sale will include the following deals:
10% OFF ALL FITNESS EQUIPMENT
Gravity Cast Kettlebells (basic Onnit kettlebells)
Primal Bells
Steel Clubs (all weights in single and pairs)
Steel Maces (all weights)
HydroCore Bag
50% OFF ONNIT 6 PROGRAMS
Bodyweight
Kettlebell
Steel Mace
Barbell
Durability
Steel Club
25% OFF SUPPLEMENTS
Alpha BRAIN® 90ct
Total Human® 30-day
Shroom TECH Sport 84ct
Total Gut Health 30-day
Vitamin D3 – unflavored, passion fruit, guava
Alpha BRAIN® Instant Peach 30ct Carton
20% OFF NUTRITION
Protein Bites, All Flavors, Box
Protein Bars, Blueberry, Box
Protein Power Puffs, Supreme Pizza (Box of 8 only, single)
Fatbutters, All Individual Flavors and flavor pack
Whey Protein, All Flavors
Plant-Based Protein, All Flavors
30% (AND UP) OFF APPAREL AS WELL AS UP TO 60% OFF VARIOUS DOORBUSTERS!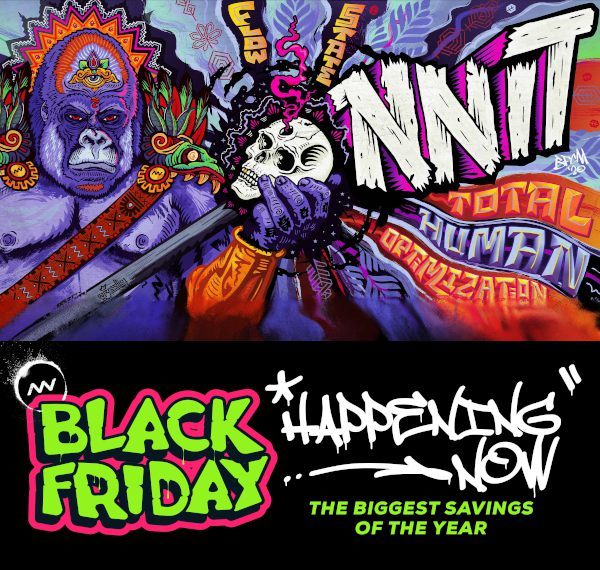 Titan Fitness Black Friday Deals
Titan Fitness is known for offering lower cost versions of the same gear made by other more well known retailers.
Last year Titan Fitness ran sales all through the month of November in a "Better Thank Black Friday" sale event. I've not seen any info for a 2020 event yet, but check back often!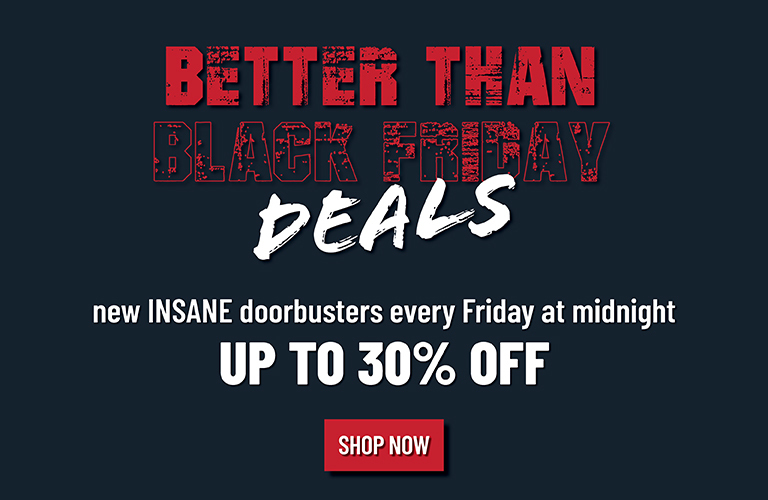 Amazon Black Friday Deals
Amazon stocks a TON of fitness equipment, and they always run daily sales and Lightning Deals leading up to Black Friday.
Amazon has started early for 2020, daily deals are live now!