Thanks to the popularity of sports like Powerlifting and CrossFit, Olympic barbells are widely available and reasonably priced.
My goal with the following article is to answer the questions I had when learning about Olympic barbells, as well as the most common questions I've seen asked in various places elsewhere.
I've also included recommendations based on equipment I've personally tested.
For information on bumper plates to go along with your new barbell, check out my Bumper Plate Buying Guide as well.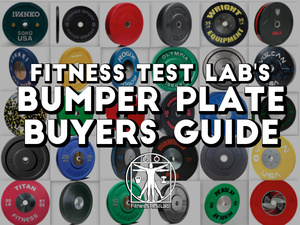 Recommendations
The recommendations are listed first for those that are already knowledgeable about barbells and just want some advice on what to buy. If you're new to barbells, check out the Olympic barbell FAQ list first.
Barbells are one of the most fundamental component of any home gym, so it's important to make an informed decision when considering a purchase.
I did the research and testing so you don't have to, and I'm only recommending products that I've personally used and think highly of.
This isn't meant to be an exhaustive list of quality barbell options, just be aware there's a lot of junk out there being sold as high quality gear.
Please do as much independent research as you can if you decide to buy a brand not mentioned here.
The best barbell for home use
The American Barbell California Bar ticks all the right boxes for me in terms of usability and addresses my main sticking point with almost all other barbells…the grip.
The combination of a dense knurling pattern with medium depth and a Cerakote finish mean I can use this bar for full workouts with minimal need for chalk. This is huge for me since I do my lifting inside my house and chalk is messy.
American Barbell California Bar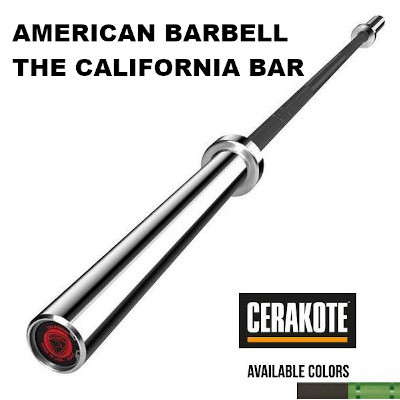 The build quality of this bar is excellent and the color options add some nice flair without sacrificing usability. If you're looking for a barbell to use at home for functional fitness or Crossfit-style WODs, the Cerakote Training Bar is a fantastic option to consider.
The American Barbell California Bar is offered in multiple colors in 20kg and 15kg sizes, so there's bound to be one that suits your needs.
You can read my full review of the American Barbell California Bar right here.
If this particular bar doesn't meet your needs or appeal to you, read on for more recommendations ?
American Barbell
American Barbell
is an industry leader and innovator in the fitness equipment realm, even though they aren't as well known as some of their competitors.
They were the first to introduce cerakote-coated barbells to market, and also the the first to re-introduce bumper plates made from urethane to market.
Everything I've tested from American Barbell has been extremely high quality, and it's not an exaggeration to say they are making some of the best fitness equipment on the market right now.
Lots of companies are making great bars, but American Barbell is my personal favorite.
I currently own three different sizes of Olympic barbells, and all three are made by American Barbell. Yes, I like them that much.   
I own a Cerakote Training Bar (full review), a Stainless Steel Training Bar (not reviewed), and a 10kg Performance Training Bar (full review)
American Barbell offers a full line of Olympic barbells at different price points, from bars made for the novice lifter to bars made for the serious Powerlifter or Olympic Weightlifter.
Vulcan Strength Training Systems
Vulcan Strength Training Systems
makes high quality equipment at reasonable prices, and their barbells are no exception.
The first true 'Olympic' barbell I ever owned was an Absolute Powerlifting Bar (full review) from Vulcan Strength, and I still consider it to be one of the best pure Powerlifting bars I've tested.
Vulcan Strength offers a full line of Olympic barbells at different price points, targeted for every level of lifter.
Fringe Sport
Fringe Sport
is an Austin original that has been manufacturing and selling strength and conditioning equipment for several years, at a level of quality and price points that are hard to beat.
Since they're local, I've had the opportunity to meet several people from the Fringe Sport team, including CEO Peter Keller.
They are all down to earth folks and fanatical about bringing high quality gear to the home gym market.
If you're interested in CrossFit or functional fitness training, the Fringe Sport Hybrid Bar (full review) is a great barbell to consider.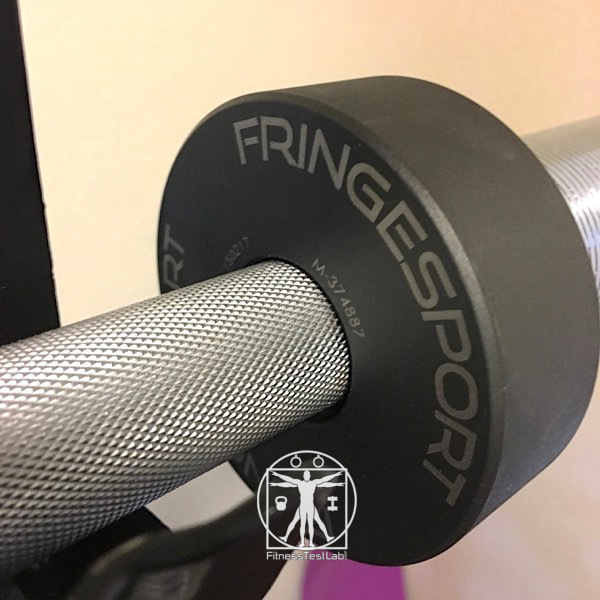 Fringe Sport offers a full line of Olympic barbells at different price points, from bars made for the novice lifter to bars made for the serious Powerlifter or Olympic Weightlifter.
If you're short on space but still want a bar that can hold up to the toughest workouts, their 15kg Shorty Bar (full review) is the perfect option.
It's possible to get some really good deals on barbells from Fringe Sport if you're not in a hurry. Barbells go on sale at least once every three months or so and you can usually save up to %25 percent on various bars.
I recommend joining the Fringe Sport mailing list in order to be notified when new sales and special deals drop. You can find the sign up at the bottom of the Fringe Sport home page.
Rep Fitness
Rep Fitness was started in Colorado in 2012 by two brothers with a passion for fitness. Their stated goal is to provide fitness equipment that meets the quality standards they themselves would look for when purchasing fitness gear.
Rep Fitness has a smaller selection of barbell options than most equipment vendors, choosing instead to focus on offering a few quality options at a good price rather than building a huge product portfolio.
Unlike most other companies selling barbells, Rep Fitness does not bundle the cost of shipping into the base price of their products.
This means you'll pay freight rates for shipping, which can be good if you live in or near Colorado, but bad if you live in the eastern half of the country.
However, even with the cost of shipping factored in it's possible to get a great deal on a barbell from Rep Fitness.
Rogue Fitness
Rogue Fitness is without doubt the most recognizable brand in the fitness equipment market, mainly due to their affiliation with CrossFit and the CrossFit games.
Incidentally, this brand recognition also gives Rogue the highest resale value on the used market. Not that you would ever decide to sell your barbell, right? ?
Rogue Fitness has the most diverse product portfolio of any fitness equipment company, with over fifty different barbell options in various shaft dimensions, finishes, and color combinations.
No matter what your preferences are, Rogue likely has a barbell that will suit you.
Titan Fitness
Titan Fitness
is perhaps best known for their aggressive low prices, and although I wouldn't recommend
everything
in their product catalogue, Titan does offer a small number of barbells that are good for a budget gym buildout.
I've reviewed their 6′ Technique Olympic Bar (full review) and I was pleasantly surprised by it. 
Titan runs frequent sales and they have a buyer rewards program, so if you're patient and you shop carefully you can score a really good deal on a barbell.
Frequently Asked Questions
What is an Olympic barbell?
Strictly speaking, an Olympic barbell is a bar made to size and weight specifications defined for use in the sport of Olympic Weightlifting.
However, Olympic barbells can be used for any type of weight training, including Powerlifting and CrossFit.
A true 'Olympic' barbell has very precise specifications, and I'll quote Wikipedia for the details:
A men's Olympic bar is a metal bar that is 2.2 meters (7.2 ft) long and weighs 20 kilograms (44 lb). The outer ends are 1.96 inches (50 mm) in diameter, while the grip section is 28 millimeters (1.1 in) in diameter, and 1.31 meters (4.3 ft) in length. A women's Olympic bar is similar to the men's bar, but is shorter – 2.01 meters (6.6 ft) – and lighter – 15 kilograms (33 lb) – with a smaller grip section diameter (25 millimeters (0.98 in)).
However, the term "Olympic" is often used as shorthand to mean the bar has rotating sleeves that are 2″ in diameter with 51.5″ of space between sleeve collars.
By way of comparison, a "standard bar" has 1″ sleeves that do not rotate.
A standard bar may have threaded sleeves for use with a threaded collar, or smooth sleeves for use with spring clip collars.
Despite the name, there's actually nothing "standard" about standard barbells. Unlike Olympic bars, there are no official specifications that define the product category so the weight, size, and load capacity of standard barbells will vary by brand.
Standard bars are usually lighter in weight and cheaper in price than Olympic barbells, mainly due to their simpler construction. However, they also have a much lower load capacity than Olympic bars, usually topping out at around 200lbs.
Although any barbell is better than no barbell, I advise against buying a standard bar and saving up for a decent Olympic bar.
A good quality Olympic bar will last you practically forever as long as you take care of it and you'll have an easier time finding compatible Olympic weights and collars.
How do I choose the right barbell?
Refer to the Recommendations section for my top picks.
When choosing a barbell, the most important factor to consider is the type of barbell exercises you plan to do.
In general, barbells can be divided into three categories of use:
Powerlifting, mainly centered around three major compound lifts: squat, bench press, and deadlift.
Olympic lifting, mainly centered around the snatch, clean, and jerk.
CrossFit or functional fitness, which incorporates elements of both Powerlifting and Olympic lifting in addition to other types of exercise.
I'll explain each of these categories in more detail later in this article.
There is also a wide range of barbells designated as specialty bars (like EZ curl bars, safety squat bars, etc), which I will cover separately.
After you've decided what type of lifting you want to pursue here are the features that matter most when selecting a barbell:
There's also a size factor to consider. Olympic bars are frequently offered in "men's" and "women's" sizes, but this distinction only really matters for competitive Olympic Weightlifting or competitive CrossFit.
For home use, it's perfectly fine to buy a bar based strictly on your specific preferences and needs.
I'm a medium-framed man, and I prefer my 25mm diameter, 15kg stainless steel "women's" bar for pulling exercises like deadlifts and for holding the barbell in a front rack position for front squats.
However, I like my 28mm diameter, 20kg Cerakote "men's" bar for pressing exercises like squats and bench press, as well as for power cleans and overhead squats.
I also have a shorty barbell that I use for barbell WODs.
I get that not everyone can afford three different barbells, but that's not the point I'm making.
What I'm trying to say is, don't let the "men's" or "women's" designations sway your purchase decision, choose and use whichever size bar will work best for you ?
Which barbell should I buy?
Refer to the Recommendations section for my top picks.
The most basic criteria for choosing a barbell is to pick one that is well suited for the type of lifting you want to do, whether it's Powerlifting, Olympic Weightlifting, or functional training like CrossFit.
Secondary criteria like knurling depth, barbell coating, and shaft diameter are also important to consider, although these criteria are much more subjective since everyone has different personal preferences for each.
Thankfully, there are many options available in every category at multiple price points, so there is certainly a barbell available that will meet your lifting needs, aesthetic preferences, and budget constraints.
Having said that, an Olympic barbell is one of the few pieces of home gym equipment where I think it's worth spending extra for a high quality option.
A good barbell can minimize your chances of injury and increase the quality of your workouts. A cheap barbell will tear up your hands, corrode faster, and possibly bend permanently if it's made with cheap steel.
My motto is "Buy Nice or Buy Twice", and this is especially true when you consider that a good quality barbell is one of the basic tools you'll use to shape your health and physique over the years to come.
What types of barbells are there?
Generally speaking, Olympic barbells can be divided into three main categories: Olympic Weightlifting, Powerlifting, and functional fitness (CrossFit).
There's a fourth category of specialty bars which aren't Olympic Barbells but can be used with Olympic bumper plates and collars. I'll cover those separately.
The most important factors differentiating the three main categories are:
The amount of flex (called 'whip') in the bar
The speed of sleeve rotation (referred to as 'spin')
The diameter of the barbell shaft.
Olympic Weightlifting barbell
Explosive Olympic Weightlifting lifts benefit from a higher whip in order to make the bar easier to catch during the snatch as well as the clean & jerk.
Due to the rapid hand transitions required to complete these explosive lifts, the barbell sleeves (the part where the weight plates are loaded) need to spin rapidly to reduce the chances of wrist and arm injuries.
A high amount of spin is achieved by using needle bearings in the sleeve collar (explained in more detail further down below).
A lot of engineering goes into the design and manufacturing of Olympic Weightlifting bars so they tend to be more expensive than bars designed for other uses.
The shaft diameter of a true Olympic Weightlifting barbell must be 28mm for men's bars or 25mm for women's bars.
Powerlifting barbell
On the other end of the spectrum, Powerlifting bars are designed primarily for heavy compound lifts like back squats, deadlift, and bench press.
Powerlifting bars tend to be stiffer than Olympic Weightlifting bars, with high tensile strength and less spin in the sleeves.
A rigid bar with minimal whip is very desirable for Powerlifting, since the last thing you want is to have your weights bouncing on the ends of the bar while squatting or benching heavy.
The minimal whip in a Powerlifting bar is usually achieved by combining a high tensile strength steel with a thicker diameter barbell shaft.
While Olympic Weightlifting barbells must be 28mm in diameter, Powerlifting barbells are typically 29-30mm in diameter.
Although there are outliers, the simpler overall design of Powerlifting bars means they are often less expensive than barbells made for Olympic Weightlifting.
CrossFit / functional training barbell
Bridging the gap between Olympic Weightlifting and Powerlifting barbells are functional training or mixed-use barbells.
These are bars that have just enough whip and sleeve spin speed for use with Olympic Weightlifting lifts while retaining enough rigidity for heavy compound Powerlifting lifts.
In other words, these bars are intended for mixed-use strength training programs like CrossFit that incorporate high-repetition sets of a small number of lifts in various workouts, such as deadlifts, power cleans, overhead squats, and thrusters.
Functional training barbells attempt to split the difference between barbells designed for Olympic Weightlifting versus barbells designed for Powerlifting.
In my opinion, these hybrid barbells offer the most value for the home lifter since you get the best of both worlds.
Unless you're an elite Olympic Weightlifter or Powerlifter, a good quality functional training bar will meet your needs for many years to come.
Pricing on mixed-use barbells can vary quite a bit, depending on whether they are closer to Olympic Weightlifting barbells or Powerlifting barbells in terms of specs.
Functional training bars are typically 28-28.5mm in diameter for men's bars and 25mm for women's bars.
Specialty barbells
As the name implies, specialty bars are barbells designed for a specific purpose, such as variations of traditional lifts or for lifts that aren't strictly Olympic Weightlifting or Powerlifting lifts.
Some of the more common specialty barbells you may have seen or heard of are:
EZ curl bar
Hex bar
Multi-grip bar
Safety squat bar
Log bar
Buffalo bar
Deadlift bar
Axle bar
With few exceptions such as a deadlift bar, specialty bars will have a different look and feel from normal Olympic barbells but can be used with Olympic weight plates and collars.
Specialty bars can be a great addition to a home gym, but buying a good quality Olympic barbell should be your first priority.
I'm very tight on space in the Lab so I only own once specialty bar, the American Barbell T-grip Shorty Bar (full review).
This particular bar can be used for a wide variety of exercises and it's one of the best pieces of gym equipment I own after my Olympic barbells and plates.
What are shorty barbells?
Short or 'shorty' barbells are barbells that are shorter in length than full Olympic barbells. A short barbell is typically 60-70 inches long, whereas a full size men's Olympic bar is 87.4 inches long and a women's bar is 79.1 inches long.
Shorty bars are technically considered specialty bars, but they offer the same functionality as full Olympic bars in a smaller package.
Obviously tradeoffs have to be made to achieve the shorter length, but a good short barbell can still meet the needs of many home gym lifters with limited space.
I have an ongoing roundup review of the best short barbells on the market, so if you think a short barbell might meet your need, check it out!
What is barbell knurling?
Barbell knurling is a name for the cross-hatch pattern etched into the barbell shaft by machines specifically made for this purpose.
The cross-hatch etching produces a dense cluster of small diamonds, which form thousands of tiny hills and valleys on the surface of the barbell shaft.
The depth and width of these small hills and valleys directly impact your ability to keep a secure grip on the bar while lifting.
Knurling is typically described in terms of a spectrum between sharp/aggressive to light/passive.
In general, sharp or aggressive knurl will have a dense diamond pattern with high 'peaks' on the top of each diamond.
Barbells designed primarily for Powerlifting and high level Olympic lifting will typically have sharp knurling to help maintain grip during heavy and highly technical lifts.
On the other end of the spectrum is light or passive knurling.
A light knurl usually has a less dense cross hatch pattern and very low to no 'peaks' on the diamonds.
Light or passive knurling can ideal for high-rep functional fitness workouts since it won't tear up your hands like a thicker knurl would.
However, light knurling also makes a bar more difficult to hold, especially as your hands start to sweat.
A medium knurl usually has a dense cross hatch pattern with slightly flattened peaks on the diamonds.
Functional training barbells most often come with a medium knurl, although there are plenty of outliers in this category that have passive or aggressive knurling.
Knurling preference is a highly subjective thing, and I find a medium knurl works best for the combination of compound lifts and Olympic lifts I like to do.
I also recommend a medium knurl depth for any home gym users who plan to do CrossFit or functional fitness workouts at home.
If you plan to focus only on Powerlifting or Olympic Weightlifting, consider a bar with a more aggressive knurl to help you maintain your grip during heavy or highly technical lifts.
What is barbell spin?
The ends of an Olympic barbell are called sleeves, which are designed to rotate rapidly around the barbell shaft. The speed at which the sleeves can rotate around the bar is what is typically referred to as barbell spin.
Explosive Olympic lifts require rapid hand transitions and independently rotating sleeves help dampen the centrifugal force of spinning plates to reduce the chance of injury to your arms and wrists.
In other words, sleeve spin provides a smoother lifting experience and reduces the chance of injury while you lift like a boss.
A high amount of spin is desirable and even necessary for Olympic Weightlifting, but less necessary for Powerlifting since there are no rapid hand transitions involved.
Spin is achieved through the used of specialized metal bushings or needle bearings, which separate the sleeve from the barbell shaft and allow the sleeve to rotate independently of the shaft.
View this post on Instagram
Bushings vs bearings
Bushings are basically lubricated metal rings and are much cheaper to manufacture than needle bearings.
As a result, bars that use bushings are (in general) less expensive than bars that use needle bearings.
Needle bearings are complicated little things that add to the manufacturing cost of a bar, and most people don't need a bearing bar for typical WODs or mixed workouts.
The majority of barbells made for functional fitness training use bushings in the sleeves instead of needle bearings, providing enough spin for WODs while keeping the overall cost down.
What is barbell tensile strength?
Strictly speaking, tensile strength is a measure of the force required to pull a material apart, such as a rope or wire.
When a barbell vendor reports tensile strength, that number refers to the amount of force required to fracture or snap the bar, measured in pounds per square inch (PSI).
In my opinion it's not a great metric for barbells since no one other than maybe the Incredible Hulk is going to be pulling barbells apart.
Tensile strength vs yield strength
A much better metric IMHO is yield strength, which refers to the amount of force that can be applied to a barbell shaft before it becomes permanently deformed.
In other words, how much weight can be loaded on the bar before it develops a permanent bend? That would be useful to know, right?
Every barbell will bend under enough weight, but will always straighten back out once the weight is removed as long as the yield strength limit has not been exceeded.
The yield strength is usually much lower than the tensile strength, so I'd prefer to know the yield strength instead of the tensile strength when making a barbell buying decision.
Unfortunately few barbell makers report the yield strength of their products, so tensile strength is often all we have to go on when determining how strong a barbell is.
So, look for barbells that have a tensile strength of at least 180,000 PSI, especially if you plan to lift heavy.
What is barbell whip?
Barbell whip refers to the amount of flex a barbell can sustain under stress without becoming deformed.
If you read the previous section, then you'll understand that whip is related to yield strength. A bar with high yield strength can potentially have a high amount of 'whip'.
Whip is also related to the thickness of the barbell shaft. Olympic barbells that are 28mm in diameter will usually have more whip than Powerlifting bars that are 29-30mm in diameter.
There's no precise measurement for whip that I'm aware of, so barbells are usually designated as high/low/medium whip.
A high amount of whip can be desirable for Olympic Weightlifting, since the flex can be leveraged to make the bar easier to catch.
A high amount of whip can also be desirable for pulling lifts like deadlifts, where having some flex in the bar can help raise the lifter's center of gravity before the weight comes off the floor.
High whip is not desirable in all cases. The last thing a heavy squatter wants is to have the weights bouncing on the ends of the barbell while trying to rack or un-rack the bar!
In general, a stiffer barbell with minimal whip is preferable for most Powerlifting lifts.
What is barbell finish?
Barbell finish is the protective coating applied to the surface of a barbell shaft and sleeves. The coating mainly protects the steel from corrosion but can also affect your grip on the bar.
There's also an aesthetic component involved, since some finishes provide options for interesting barbell shaft and sleeve color combinations.
The finish on the barbell will also directly affect the time you have to spend maintaining your barbell by cleaning it. Yes, you have to clean it, at least occasionally ?
Here's a list of the most common finishes, ordered from top to bottom by their ability to resist corrosion (rust):
Stainless steel – Stainless steel is actually not a finish, it's a steel alloy made with chromium. Chromium is inherently resistant to rust, so stainless steel offers the best protection against rust and provides great grip. A true stainless steel bar will develop a patina over time, which doesn't affect the feel of the bar. Using stainless steel in barbells incurs a significant increase in manufacturing cost, and the pricing of stainless steel barbells reflects that cost premium.
Cerakote –

A unique ceramic-based coating originally developed for firearms. Cerakote is low maintenance and provides excellent abrasion and corrosion resistance in addition to great grip. Cerakote can be applied in an extremely thin coat, which leaves the feel of the knurling intact. Cerakote can also be made in almost any color, which allows for some very colorful and awesome looking barbells.

E-Coat –  An electrically applied coating that was first popularized in the auto industry for its reliable coverage, adhesion, and corrosion resistance. I have a curl bar with an E-Coat but I've not owned it long enough to evaluate the corrosion resistance. However, I've tested several kettlebells with E-Coat finishes and I've found the finish to be very durable.
Black zinc – 

A medium oxidization protectant process. Black zinc looks great at first but the deep black color can often fade to green and in some cases rub off entirely over time. Black zinc doesn't require a lot of maintenance but it does not provide very good grip when your hands start to sweat.

Hard chrome –

An electroplating process where a layer of chromium is applied to a barbell by submerging it in a chromic acid solution. The end result looks like polished silver. Hard chrome is a common finish for barbells because it provides a high amount of durability, but like zinc it can get slick and hard to hold when your hands start to sweat.

Black oxide –

A mild oxidization protectant process. This finish provides a great grip that feels the most like bare steel but offers minimal corrosion resistance. It will also rub off over time and requires a lot of maintenance to prevent corrosion.

Bare steel –  As the name implies, a bare steel bar has no protective finish. A bare steel bar is materially different from stainless steel since the steel used in this case has little to no chromium content in the steel alloy mixture. A bare steel bar arguably offers the best overall feel in the hands, but requires the highest amount of maintenance to prevent corrosion.
What is the best finish for a barbell?
Answers to this question may vary since personal preference is a factor, but in my opinion the best finish is the one that meets the following criteria:
Excellent rust protection
Excellent grip
Minimal maintenance required
Given these criteria, I recommend either stainless steel or Cerakote as barbell finish options. Both are highly durable, offer great grip, and require minimal maintenance to keep clean and prevent corrosion.
I don't recommend chrome or zinc at all, since both finishes become slippery when your hands start to sweat and aren't all that great in terms of corrosion resistance.
The only place where chrome makes sense to me is on the barbell sleeves. You won't be holding the sleeves and chrome has enough abrasion resistance to avoid being scratched by weight plates sliding on and off.
Speaking of sleeves, Cerakote is great for barbell shafts but avoid barbells that use zinc or Cerakote finishes on the barbell sleeves. The loading and unloading of plates will quickly scratch that finish right off of the sleeve.
An E-coat provides great corrosion resistance, but provides lousy grip once your hands start sweating. I think it's fine on a specialty bar like a curl bar, but I wouldn't want it on a full size Olympic bar.
Stainless steel vs Cerakote vs chrome
I currently own a Cerakote Training Bar (full review), a Stainless Steel Training Bar (not reviewed yet), and a 10kg Performance Training Bar (full review) finished in hard chrome.
I'm not a fan of the hard chrome, but the 10kg Performance Training Bar is currently the best shorty bar option I've been able to find (read my short barbell roundup review), so I use it for barbell WODs in my limited workout space.
I use the stainless steel bar for deadlifts and front squats, and the Cerakote bar for everything else.
The Cerakote bar is my favorite bar by far, mainly because it's so easy to maintain. It really doesn't take much effort to get it looking practically brand new again.
By way of comparison, my stainless steel bar has developed a patina that makes it look…old.
Don't get me wrong, it still looks great and the stainless steel feels great in my hands, but I still think the blue Cerakote looks nicer ¯\_(ツ)_/¯
The Cerakote bar also offers me the best grip of all three bars. They each have the exact same knurl pattern, so I'm able to do a direct apples-to-apples comparison with them.
The chrome barbell is a great bar to WOD with, but I always have to rely on chalk when using it because it gets slippery when my hands start to sweat.
As for corrosion resistance, of all three bars only the chrome bar is showing any signs of rust.
How do I keep my barbell from rusting?
At a minimum, always wipe your barbell down with a dry cloth after use to remove excess sweat and moisture. You'll also need to periodically clean the knurling, since bits of chalk and dead skin stuck in the knurling can trap moisture against the surface of your barbell.
How often you need to clean the knurling depends on the type of finish you choose for your barbell. Cerakote and stainless steel require very little maintenance, and I basically clean my Cerakote and stainless steel bars "whenever I feel like it", which is probably once every couple of months or so.
The best way get all the chalk and moisture out of the knurling is with a good quality synthetic brush and a small bit of lubricant like 3-in-1 oil.
Add a little bit of the oil to the bristles on the brush, then use brush to dislodge the chalk and a dry cloth to wipe it all off.
Avoid using household cleaning agents or solvents with mineral spirits, alcohol, or chlorides (chlorine, iodine, bromine) since they can potentially damage or strip the finish on your bar.
What can I use to clean my barbell?
If you don't already own a good quality synthetic brush, Rogue Fitness sells a great barbell cleaning kit that costs just under ten bucks plus shipping.
The same kit is also available from Amazon, often at a better overall price:
Avoid using a steel wire brush, since a steel brush can damage the finish of your barbell.
A steel wire brush can also leave small metal shavings on the surface of your barbell, which will oxidize and ironically contribute to the formation of rust ?
If you have a stainless steel or hard chrome bar and you're seeing rust buildup, try using some Bar Keeper's Friend cleanser on it.
This stuff works wonders, and can be used on regular household items as well.
Conclusion
My goal is to make this article a comprehensive resource for anyone considering the purchase of an Olympic barbell for use at home.
I've covered everything from barbell features to barbell uses, including the the three main types of barbells as well as specialty bars.
Hopefully I covered everything! ?
If you have questions I didn't answer, please add them in the comments and I'll update this article as needed.