A while back I went through a bodyweight training phase and during that time I decided to buy a pair of gymnastic rings. I initially hung the rings from a doorway-mounted pull up bar but wasn't satisfied with that setup because it didn't offer enough height. I decided to mount the rings from my ceiling instead, using some wood and hardware from Home Depot.
Hardware
(1) 2″ × 6″ piece of wood. I bought an eight-foot length and cut it down to 52″, which was long enough to span three ceiling joists.
(6) 3/8″ x 3.5″ lag screws. I used lag screws because I wanted the grippiest screws I could find to reduce the chances of epic failure. I'm using six because I wanted two screws per ceiling joists.
(6) 5/16″ x 3.25″ eye bolts. Used for mounting carabiners, which hold the ring straps.
(12) 5/16″ washers and (6) 1/4″ nuts. I used these for securing the eye bolts on both ends of the board.
(6) 3/8″ washers for the lag screws.
(2) 3/8″ x 3-1/2″ heavy duty carabiners, each capable of holding 250lbs. I have four carabiners shown in the pictures, but I only use the heavy duty ones for mounting the rings. I use the other two for keeping excess strap material out of the way.
(1) small can of walnut stain and a throwaway foam brush.
(1) 1″ Forstner bit for drilling recesses for the eye bolts
While not strictly needed, drilling the recessed hole with the Forstner bit provides space for keeping the top of the eye bolt flush with the board. This way you don't have to make more holes in your ceiling than necessary.

Details
It's been a while so I don't have pictures of the DIY process but I'll describe it as best I can for those looking for a similar solution.
The board spans three ceiling joists with two lag screws mounted into each joist, which distributes my weight over six points. I used a stud finder to locate the joists and marked the boundaries on the ceiling lightly in pencil. I measured the distances between the marks and marked the same boundaries on the board.
I drilled two holes for each lag screw in the board. I then got on a ladder and held the drilled board up to the ceiling in the mounting location and drilled matching pilot holes into the ceiling.
Next I spaced out three ring mount points on each half of the board and drilled pilot holes for the eye bolts. I then used the Forstner bit to drill a 3/4″ deep recess into the top of the board over each eye bolt hole.
I stained the wood on the sides and bottom to match my flooring so it would look nicer, which was also key to getting my wife to begrudgingly agree to let me mount the rings inside the house!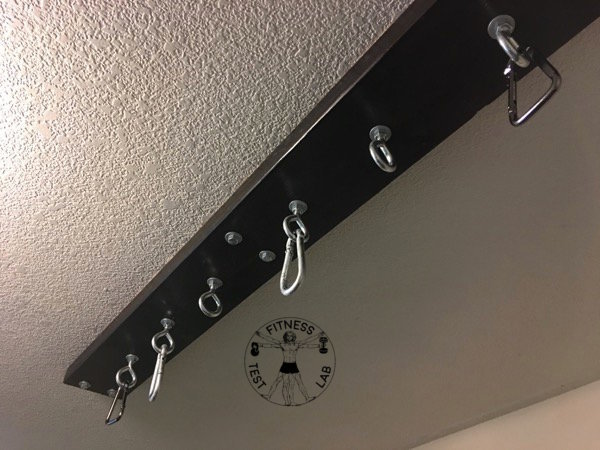 I installed all the eye hooks first, adding washers on both the top and bottom bolts. I then mounted the board on the ceiling via the lag screws, using washers on those as well. After that, the only thing left to do was put up the rings.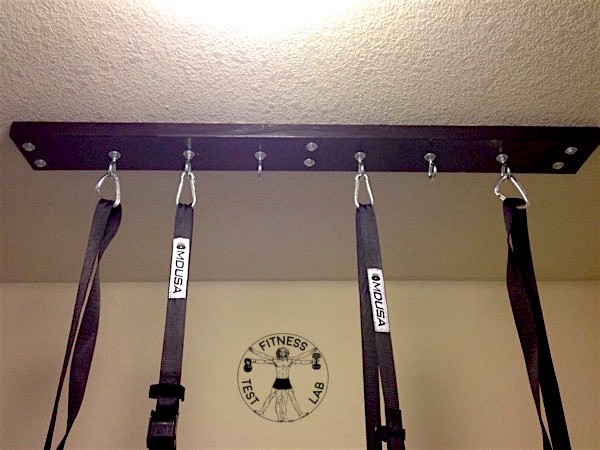 Is the ceiling strong enough to support me?
I'm certainly no builder, but I have access to my attic and verified that just one of the joists I would be using could hold my full weight before I bought any materials. I know that not everyone can do this due to an inability to get in their attic, but if you can, I definitely recommend it.
If you plan to do something similar, don't use framing lumber. Use a hardwood like oak or maple instead. It will be significantly stronger with much less chance of warping or sagging over time.  I don't recall exactly which type of wood I used, but I skipped the cheap stuff and went straight for a harder wood (insert Beavis laugh here).
Wrap up
This mount has served me well, I've had it installed for a few years now and I've never had a problem with it. I can do dips, pull-ups, and pretty much any other ring work I've been willing and able to try.
Having multiple ring mounts is probably overkill, but it's been convenient to be able to move the rings from time to time depending on what I'm working on. For example, I move the rings close together when using the rings for push ups and farther apart for wide grip pull ups. This mount would work equally well for TRX straps or any other type of suspension training.
Feel free to ask any questions in the comments if there is something you'd like to know that I didn't cover!