Thanks to the popularity of sports like powerlifting and CrossFit, Olympic bumper plates and barbells are widely available and reasonably priced.
My goal with the following post is to answer the questions I had when learning about Olympic bumper plates, as well as the most common questions I've seen asked in various forums elsewhere.
I've also included recommendations based on equipment I've personally tested.
For information on a barbell to go along with your new bumper plates, check out my Barbell Buying Guide as well.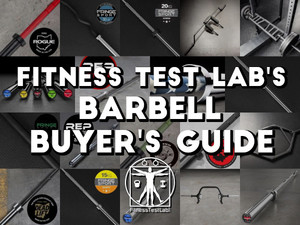 Recommendations
I've moved the recommendations up top for those of you who are already knowledgeable about bumper plates and just want some advice on what to buy. For those that want more information, check out the bumper plate FAQ list first.
I've done the research and testing so you don't have to, so I'm only going to recommend products that I've personally used and from companies I have experience with.
Obviously you don't have to take any of my recommendations and this isn't meant to be an exhaustive list of good quality bumper plate options, just be aware there's a lot of junk out there being sold as high quality gear.
Do as much research as you can if you decide to buy a brand not mentioned here.
Vulcan Strength Training Systems
Vulcan Strength
makes some very high quality gear at reasonable prices, and their bumper plates are no exception.
The very first set of bumper plates I ever owned was a 160lb set of black bumper plates (full review) from Vulcan Strength, and I still consider them to be one of the best basic plates I've tested.
Vulcan Strength offers a full line of bumper plates at different price points in both kilograms and pounds, ranging from basic black bumper plates to urethane plates.
Vulcan Strength
was the first company I'm aware of to start using "hooked" collar inserts, which increases the durability of bumper plates by reducing the chances of the collar popping out from repeated drops.
I believe it's only a matter of time before all the major companies start doing the same.
My top recommendation for bumpers from Vulcan Strength are their line of Alpha plates. These plates are uniquely designed to combine some of the best features of various types of plates:
Affordable, like black virgin rubber plates

Durable, like crumb rubber plates

Color coded, like competition plates

Low bounce, like competition plates
Most virgin rubber plates can only be dropped on a platform to avoid damaging the plate.
Alpha plates are produced with a special formulation of rubber designed to be used indoors and outdoors on practically any surface.
Vulcan Strength has a short promotional video that demonstrates the Alphas being used on concrete, which would be very damaging to any other type of virgin rubber plate.
Check it out:
I have a 260lb set of Alpha plates and I get a lot of use out of them.
The Alphas are one my all time favorite bumper plates, and I highly recommend them as a step up beyond basic black rubber plates and as a better option for outdoor use than crumb rubber plates.
Fringe Sport
Fringe Sport
is an Austin original that has been manufacturing and selling strength and conditioning equipment for several years, at a level of quality and price points that are hard to beat.
Since they're local, I've had the opportunity to meet several people from the Fringe Sport team, including CEO Peter Keller. They are all down to earth folks and fanatical about bringing high quality gear to the home gym masses.
They also have a great sense of humor over at Fringe HQ. Who else would even think to introduce a donut bumper plate??
Fringe Sport offers a full line of bumper plates at different price points in both kilograms and pounds, ranging from basic black bumper plates to competition plates.
Fringe Sport bumper plates are designed to be extremely durable. Similar to Vulcan Strength, Fringe Sport makes use of "hooked" collar inserts to improve bumper plate durability.
It's possible to get some really good deals on bumper plates from Fringe Sport if you're not in a hurry. Bumper plate sets go on sale at least once every three months or so and you can usually save up to %25 percent on Basic and Contrast bumper plate sets.
I recommend joining the Fringe Sport mailing list in order to be notified when new sales and special deals drop. You can find the sign up at the bottom of the Fringe Sport home page.
Rep Fitness
Rep Fitness was started in Colorado in 2012 by two brothers with a passion for fitness. Their stated goal is to provide fitness equipment that meets the quality standards they themselves would look for when purchasing fitness gear.
Rep Fitness has a smaller selection of bumper plate options than the rest of the companies covered, choosing instead to focus on offering a few options at a good price than building a huge product portfolio.
Unlike most other companies selling bumper plates, Rep Fitness does not bundle the cost of shipping into the base price of the plates.
This means you'll pay freight rates for shipping, which can be good if you live in or near Colorado, but bad if you live in the eastern half of the country.
However, even with the cost of shipping factored in it's possible to get a great deal on bumper plate sets.
I've tested their competition plates and I found them to be equally as good in terms of durability and bounce as Rogue's competition plates, but offered at a better price.
American Barbell
American Barbell
is an industry leader and innovator in the fitness equipment realm, even though they aren't as well known as some of their competitors.
They were the first to introduce cerakote-coated barbells to market, and also the the first to re-introduce bumper plates made from urethane to market.
In both cases, other companies have followed their lead and started offering similar products.
Everything I've ever tested from American Barbell has been extremely high quality, and it's not an exaggeration to say they are making some of the best fitness equipment on the market right now.
American Barbell offers a full line of bumper plates at different price points in both kilograms and pounds, ranging from basic black bumper plates to urethane competition plates.
Personally, I like the look of the Shield line of plates. They are very distinctive with a color coded stripe running along the edge of each glossy black plate and feature the American Barbell eagle logo on the face.
Rogue Fitness
Rogue Fitness is the 500lb guerrilla in the fitness equipment market. They are hands down the most recognizable brand, mainly due to their affiliation with CrossFit and the CrossFit games.
Incidentally, this also gives them the highest resale value on the used market in case you ever decide to sell your equipment (but of course you would never do that, right?)
Rogue has the most diverse product portfolio of any fitness equipment company, with lots of bumper plate options in both pounds and kilograms ranging from crumb and virgin rubber to urethane, and from basic black bumpers to competition bumper plates.
If you're considering a purchase of competition bumper plates, the Rogue competition plates are a great option. These plates get used and abused at the CrossFit games, so they are definitely proven to hold up to hard use.
I own a set I bought used and they have held up well with consistent use over the last few years.
Titan Fitness
Titan Fitness
is perhaps best known for their aggressive low prices, and although I wouldn't recommend
everything
in their product catalogue, Titan bumper plates are a great option for building a home gym on a limited budget.
Titan runs frequent sales and they have a buyer rewards program, so if you're patient and you shop carefully you can score some really good deals on bumper plates.
I own a set of Titan Fitness Urethane Bumper Plates (full review)and they are the best buy on urethane bumper plates I've been able to find.
They are well made and very reasonably priced when compared to the competition.
If you're interested in urethane bumper plates, check out Titan Fitness first.
Frequently Asked Questions
Which bumper plates should I buy?
Refer to the Recommendations section for my top picks.
With few exceptions, unless you are training for competitive events, any set of bumper plates will work for powerlifting, Olympic weightlifting, CrossFit, or other types of functional fitness training.
You might be thinking, "Great! I'll just get some el cheapo bumpers and be done!"
Not so fast my friend! Although weight is weight, there's a psychological aspect to owning nicer stuff.
Your home gym is your happy place and ideally you'll be spending lots of time there, so don't be afraid to spend a little more buying something you really like. You'll be happier, you'll use it more often, and the extra cost will amortize out over the long run.
My motto is "Buy Nice or Buy Twice", and this is especially true when you consider that good quality bumpers are one of the basic tools you'll use to shape your health and physique.
What are Olympic bumper plates?
Strictly speaking, Olympic bumper plates are weight plates made to size and weight specifications defined for use in the sport of Olympic weightlifting.
However, bumper plates can be used for practically any type of weight training, including powerlifting and CrossFit.
When describing bumper plate features, the term "Olympic" is often used as shorthand to mean the plate diameter is 450mm (17.72″) and the collar opening is approximately 50mm (2″) in diameter.
A standard non-Olympic plate typically has a collar opening that is 1″ in diameter, so the distinction is important.
A plate designated as an 'Olympic' plate will be compatible with other equipment designated as 'Olympic', like Olympic bars and collars.
What is the purpose of bumper plates?
Bumper plates are Olympic-sized weight plates that are designed to be dropped after completion of a lift.
They were developed as a way to allow lifters to keep setting new records without having to control the weight on the way down. Once a lift is complete, the weight is simply dropped. No muss, no fuss.
Well-designed bumper plates absorb the shock of impact without damage to the floor, plates, or bar.
Bumper plates are especially useful for anyone interested in training overhead lifts like the Olympic clean & jerk and Olympic snatch, but also great for protecting your floors during heavy deadlifts and accidental weight drops.
I do train Olympic lifts, but I use bumper plates in my home gym mainly for the latter reasons. My gym is in a spare bedroom inside my house and I don't want to risk damaging my flooring.
What are competition bumper plates?
Competition bumper plates are generally understood to be plates that conform to the IWF (International Weightlifting Federation) specifications on dimensions, tolerances, and weight plate colors. The IWF is the governing body for the sport of Olympic weightlifting.
In order to be considered an Olympic "competition" plate, a bumper plate must be certified by the IWF as conforming to the following requirements:
The discs must be of the following weights and colors:

25 kg red
20 kg blue
15 kg yellow
10 kg green
5 kg white
2.5 kg red
2 kg blue
1.5 kg yellow
1 kg green
0.5 kg white

The diameter of the largest discs: 450 mm with a tolerance of ± 1 mm.

The 450 mm discs must be covered with rubber or plastic and coated on both sides with permanent colors or painted at least on the surface of the rim.

The discs lighter than ten (10) kg may be made of metal or other material as approved.

All the discs must have a clear indication of their weight.
The spec denominates the weights in kilograms, but it is possible to buy competition-style bumper plates denominated in pounds as well.
Many companies offer plates that conform to the IWF specifications, but very few are actually IWF-certified. This means they aren't "true" competition plates, they're actually considered to be "training" plates.
This is a distinction without a difference for anyone who doesn't compete in IWF-sanctioned events. Certification is an expensive process that adds significant cost to the overall product price with no added benefit to those who don't plan to compete.
Some companies offer bumpers with the colors and weights mixed up or with their own unique color scheme. These are usually lower quality products to be avoided.
The color coding system is well established and is there for a reason – it helps lifters and coaches quickly pick out the right weights as well as making it easy to calculate the exact weight loaded on a bar.
Competition-spec bumper plates are typically constructed with a metal disc surrounded by rubber.
The metal disc contributes a significant amount of the plate weight, which helps reduce the overall plate width. As a result, more weight plates can fit on a single bar.
The extra metal used for the disc combined with the higher tolerances required to comply with IWF specifications mean that these types of plates are more expensive to make, and therefore more expensive to buy than virgin or crumb rubber plates.
What are bumper plates made of?
Bumper plates are primarily made of different compositions of rubber or urethane.
The majority of bumper plates manufactured and sold for home use are made of virgin rubber, which gives off a distinct "tire shop" smell that goes away over time.
Some bumper plates such as Rogue Hi-Temps are made of recycled rubber, which is more durable than virgin rubber but also more expensive.
These type of plates are also sometimes called crumb rubber plates.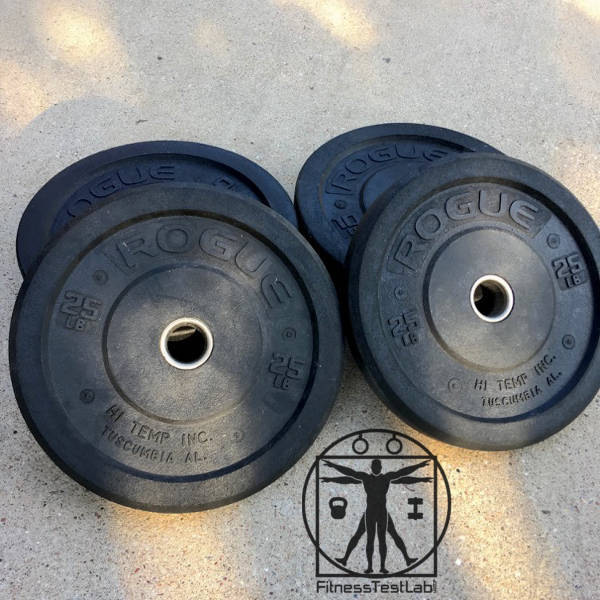 As for urethane plates, keep reading…
What are urethane bumper plates?
Urethane is a synthetic compound that combines some of the best properties of plastic and rubber. Urethane is highly resistant to abrasion, cutting, and tearing while still maintaining enough flexibility to resist impact damage and deformation.
In other words, you can beat the heck out of stuff made of urethane, which makes it an ideal material to make bumper plates out of.
All that amazing durability comes at a cost though. Urethane bumper plates are currently much more expensive than equivalent plates made of rubber.
In addition to durability, urethane can bond with coloring agents more easily, which makes for some incredibly vibrant color in the current crop of urethane plate offerings.
One other benefit of urethane bumper plates worth mentioning is their complete lack of odor.
New rubber bumper plates will typically have a "new tire" smell that can linger for quite a while, so odorless urethane plates are a great option for those who are sensitive to strong smells.
If you plan to build a home gym inside your house, consider going with urethane bumper plates. They won't stink up your house and they're so durable they'll likely outlast your will to use them!
Several companies currently offer urethane bumper plates, including American Barbell, Vulcan Strength, Rogue Fitness, and Titan Fitness.
The Titan Fitness urethane plates (full review) are my current set of go-to bumper plates and I'm very happy with them.
I've also had the chance to inspect a pair of Prime Urethane Plates (lightning review) from Vulcan Strength Training Systems and they are a great option as well.
What is a crumb rubber plate?
"Crumb rubber" is another name for recycled rubber. Plates made from crumb rubber are made from rubber reclaimed from tires and other sources of used rubber.
The lower density of the recycled rubber gives these type of plates a higher and more erratic bounce than virgin rubber, which adds to their durability but makes them harder to control and reset after a drop.
Crumb rubber plates like Hi-Temps tend to be significantly wider than virgin rubber plates, which means fewer plates can be used on a standard Olympic bar.
Several companies offer crumb rubber plates, including Rogue Fitness and Fringe Sport.
What are change plates?
Change plates
are small plates denominated in partial increments of kilograms or pounds.
For kilograms, the common weights are .5kg, 1kg, 1.5kg, 2kg, 2.5kg, and 5kg.
For pounds, the common weights are 1.25lb, 2.5lb, 5.0lb, and 10lb.
Since the smallest bumper plate weight is typically 10kg or 25lbs, change plates provide a way to add smaller increments of weight to a lift.
What are fractional plates?
Fractional plates
are similar to change plates in that they provide a way to add small increments of weight to a lift.
However, the increment units are much smaller than change plates. Fractional plates are typically weighted in fractions of one pound or kilogram, which allows "micro-loading" the bar for those times when adding 5 or even 2.5 pounds is too big of a jump.
For kilograms and pounds, it's common to see weights offered in .25, .5, .75, and 1.0 increments.
How much do bumper plates weigh?
Bumper plates typically come in standard weights denominated in either kilograms or pounds. The common weights for pounds are:
55lb

45lb

35lb

25lb

15lb

10lb
The common weights for kilograms are:
As you can see, weights denominated in pounds come in a greater diversity of sizes.
How much weight should I buy?
My answer to this question is going to be heavily biased by my personal opinion.
Then again, if you weren't interested in my opinion you wouldn't be reading this article, right?
I think everyone can benefit from heavy deadlifting. Men and women, young and old, everyone should train the deadlift.
There is nothing more functional than picking heavy things up off the floor, and deadlifts are great for building a strong healthy back.
So assuming 1) you agree, and 2) you are relatively new to lifting, I believe men should buy at least 140kg/300lb of weight and women at least 120kg/260lb of weight.
A 300lb/260lb deadlift is well within the capability of the majority of healthy people who train regularly, and this amount of weight is more than enough to keep you busy for a good long time regardless of the type of training you decide to do.
What is a durometer (shore) rating?
A durometer rating is a measure of a material's hardness – the higher the rating, the higher a material's resistance to permanent indentation.
A "shore" rating is the same thing. The Shore Durometer was invented by Albert Ferdinand Shore, and the hardness scale bears his name.

For bumper plates, a high shore rating means less bounce.
On the flipside, less bounce means louder drops. All that kinetic energy has to go somewhere, and physics is a harsh mistress.
If your priority is quieter drops, crumb rubber plates are your best bet since their shore rating is usually somewhere in the "Medium Hard" to "Hard" range on the scale.
If your priority is a dead bounce and noise level be damned, competition plates are a better option since their shore rating is usually somewhere in the "Hard" range on the scale.
How do I get rid of bumper plate rubber smell?
Any product made of rubber is going to give off an odor for a while, and bumper plates are no exception. Some plates are advertised as "low odor", but low odor does not mean no odor.
For those sensitive to the smell of rubber, I offer the following tips for eliminating the rubber smell from brand new bumper plates.
First, expose the plates to sunlight for a few hours.  The UV rays from the sun will help speed up the off-gassing process.
Be sure to expose both sides of each plate to the sun. Keep them out there long enough for them to get warm, but not long enough for them to get too hot to touch.
Too much UV exposure can start to break down the rubber and harden it, which you definitely don't want.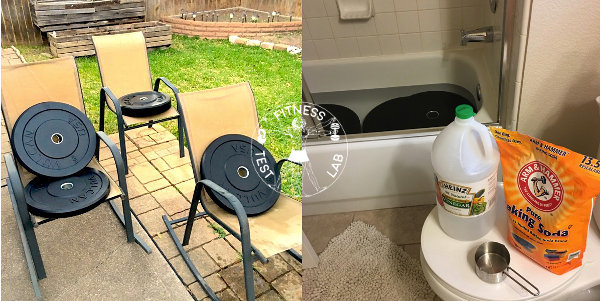 Second, soak your bumper plates in a solution of water, white vinegar, and baking soda.
I filled my bathtub with just enough water to cover my plates and added two cups of vinegar + two cups of baking soda. I mixed the vinegar and baking soda in the water till all the powder was dissolved before placing the bumper plates in the water.
Make sure the plates are completely submerged. Leave them soaking for at least an hour, then drain the tub and rinse the plates off with clean water.
In my case I did two soakings – one for the two 45lb plates and another for the rest of the plates. After I was done the rubber smell of my new bumper plates was completely gone.
If the smell of your bumper plates persists after taking these two steps, repeat the process till you're satisfied with the result.
Conclusion
My goal is to make this article a comprehensive resource for anyone considering a purchase of bumper plates for use at home.
If you have any questions I didn't cover, add them in the comments and I'll update this article as needed.