During my recent search for rackable short barbells, I came across a quirky-looking bar from American Barbell called the T-Grip Shorty Bar. At only 4 feet in length, it's not rackable but I was intrigued enough by the distinct shape to put one to the test.
The T-Grip Shorty Bar has some caveats, but overall it happens to be a really good multi-use bar for use in metabolic conditioning and circuit training. It also makes a great travel tool for workouts on the go.
American Barbell T-Grip Shorty Bar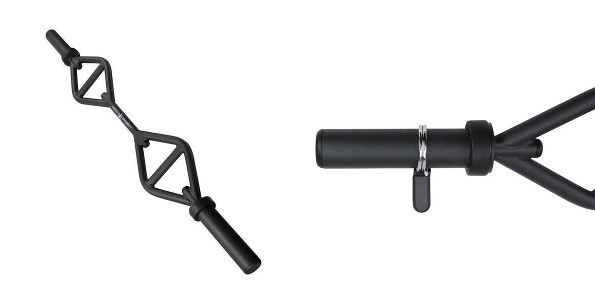 Specifications
The product information for the T-Grip Shorty Bar on the American Barbell website is somewhat sparse, so I'll start with the info explicitly stated on the product page:
4ft barbell for use with Olympic-sized weight plates
2-inch diameter non-rotating sleeves
Weight: 10lbs
Length: 48 inches
Safe load capacity of 300lbs
20″ spacing between handles.
Here's what's not stated, but still worth knowing:
Steel construction
Powder coat finish on bar and sleeves
25mm handles
7″ of loadable sleeve space
Protective hard rubber over collars and end-caps
The hard rubber around the collars and on the ends is a nice touch, since it helps protect the bar (and my hardwood floor!) during storage.
Unboxing
The T-Grip Shorty Bar came in a well packed box, with plenty of protection for the bar. In fact, this is one of the most well-packaged barbells I've seen.
Granted, the bar is light and therefore the chances of damage during transit are lower than with a normal barbell, but it's clear that American Barbell takes great care in making sure their products arrive in pristine condition.
The bar ships with a couple of spring clips, which is a nice extra perk.
Impressions
Weighing in at just 10 pounds, the T-Grip Shorty Bar feels light but very solid.
All of the welds look sturdy, and the protective hard rubber collar covers and end-cap inserts are tight fitting.
The powder coat has no texture, and the grips have no knurling. This concerns me, since the lack of knurl combined with a smooth coat could impact the grip.
More on this later.
The small compact size is nice, since it takes up hardly any room. I'm storing it in the same corner I store my bench, so it takes up no extra space in my small home gym.
Real world use
The T-Grip Shorty Bar has one major drawback I want to mention up front.
The bar is rated to hold 300lb, but as far as I can tell there's no way to even come close to this weight with regular rubber bumper plates.
There's only about 7 inches of loadable sleeve length per side, which fits two 45lb rubber bumper plates per side plus the spring collar.
Two 45s gives you a grand total of 190lbs (180lbs in bumpers plus the bar) of maximum weight when using virgin rubber plates.
I have Hi-Temp bumper plates, which are made of recycled rubber and are wider than virgin rubber plates. I'm unable to load two 45lb Hi-temp plates on one sleeve and still leave room for the spring clip.
With Hi-Temps, the maximum weight is down to 150lbs (one 45lb and one 25lb plate per sleeve, plus the bar).
The next logical choice before resorting to metal plates would be competition bumper plates, since comp plates are thinner than non-competition virgin rubber bumper plates.
However, competition plates could be problematic depending on the brand. The T-Grip Shorty Bar product page specifically warns that certain competition plates may not fit on the bar, without getting into specifics.
From the product page:
Please note: the T-Grip Shorty bar fits most plates with a 2″ insert, but may not be compatible with certain "competition" plates with very precise tolerances. 
The ambiguity leaves room for some competition plates to work, and I was hoping my Rogue competition plates fell into that gray area.
Unfortunately the sleeves of the T-Grip Shorty Bar are just a little too thick to fit in the collars of the Rogue competition plates. When I tried loading the Rogue competition plates, the right sleeve fit (extremely tightly) but the left sleeve did not fit at all.
On the other hand, I also have a set of Rep Fitness competition bumper plates that I'm evaluating and these worked just fine with the T-Grip Shorty Bar.
Snug on both ends, but they do fit.
I don't own any American Barbell Training Plates so I can't verify their plates work on this bar, but I think it's probably safe to assume they do. I would expect American Barbell to explicitly state otherwise in the product info if they didn't.
If you happen to have a set of competition plates that work with this bar, you can load it up to at least 242lbs and still have room for the spring clip.
Otherwise, you'll have to use steel plates if you want to hoist more than 190lbs.
Moving on, I'd like to cover how I think this bar is best used in a home gym setting.
Simply put, I found this bar to be useful for three main purposes:
Accessory work to accompany other lifts (e.g. curls, tricep extensions, bent rows, etc)
Circuit training
Metabolic conditioning (Metcon) workouts
In my opinion, Metcon-style workouts are probably the sweet spot for the T-Grip Shorty Bar. As the name implies, this kind of workout is more about conditioning than lifting heavy, so it's not a problem if you can't max this bar out.
In fact, I've started incorporating Metcon workouts into my training specifically because this bar is so accessible and easy to maneuver in a tight space.
I lift in my small spare bedroom gym (aka the Fitness Test Lab) and maneuvering with with a loaded barbell has always been challenging, even with a 6ft shorty bar.
I'm just playing around with the T-Grip Shorty bar before dinner in the short video below, but it gives you an idea of what's possible with this bar.
If my awesome Instagram video hasn't convinced you of the usefulness of this bar, then maybe you would be swayed by watching someone way hotter and fitter than me using it.
Incidentally, I found the following video of fitness model Jenna Douras putting the T-Grip Shorty Bar through some paces, which is a good showcase of what you can do with a T-Grip Shorty Bar.
Note that she's using the standard size (1″ diameter sleeves) whereas I'm reviewing the Olympic-size (2″ diameter sleeves). However, the same exercises can be done with both.
Lakefront property is optional.
I like the T-Grip Shorty Bar overall, but there are some things I would change if I could. First off, it would be great if there was an option for a 28mm bar, since 25mm is a bit too thin for my personal preference.
I'd also like to see some knurling or texture on the bar finish, especially on the parallel grips. The lack of knurling and the smooth powder coat make the bar slippery to grip once the sweat starts flowing, so holding on to it for high rep sessions can be challenging.
Lastly, I think it would be awesome if the sleeves rotated, simply because cleaning and snatching with non-rotating sleeves sucks.
American Barbell does offer a T-Grip bar with all of these features in the T-Grip Pro line of bars, just not in the shorty version. The Pro version is arguably a more versatile bar in that it is rackable with rotating sleeves, but sacrifices the compactness of the shorty bar.
Even with these caveats, the pros still outweigh the cons and I consider the T-Grip Shorty worth owning in addition to a regular barbell or a shorty barbell.
Bottom line
The T-Grip Shorty Bar defies categorization in some ways. It's not quite a barbell, yet not quite a specialty bar since it can be used for a wide variety of exercises.
The best one-line description I can come up with is that the T-Grip Shorty is an ergonomic multi-function bar. The patented design with parallel grips allows for a more natural range of motion with a neutral alignment of the wrists and arms, allowing for a wide range of uses.
The T-Grip is not going to replace a regular barbell, but it can probably take the place of a specialty bar like an EZ curl if you're really short on space like I am. I think the sweet spot for this bar is for use in metabolic conditioning (Metcon) and circuit training.
It's small, compact, and versatile, which is exactly the kind of equipment I like. I find myself using it quite a bit, mainly because it's so easy to use in a confined space like my spare bedroom gym.
This is a bar I'll be keeping for the foreseeable future.
Feel free to ask any questions in the comments if there's something you'd like to know that I didn't cover!

American Barbell T-Grip Shorty Bar