"Boneyard Bar" is the name given to any bar that doesn't pass Rogue's full quality inspection but is still considered usable. Rather than discard these bars, Rogue offers them at a discount with no warranty and no returns.
It's a nice program that allows you to get a potentially great bar at a significant discount. However, you also run the risk of getting a lemon.
If you're considering buying a Boneyard Bar, let me to share my experience with you before plunking down your hard earned cash.
Introduction
According to Rogue, a Boneyard Bar is a…
…brand new, seconds quality barbell off of Rogue's standard production line. These bars may have minor cosmetic issues such as finish blemishes or inconsistencies with the knurl. If any flaw is found on a Rogue standard barbell, it is added to the Boneyard. These bars are guaranteed to arrive in new, ready to hit the gym condition.
In other words, bars relegated to the Boneyard may have superficial issues that prevent them from being offered at full retail price, but are still good enough to be usable and are therefore sold at a discount. Boneyard bars are sold as-is, with no warranty and no returns allowed.
Given how much a good quality barbell can cost, Boneyard Bars are a tempting proposition despite the chance of ending up with a lemon you can't return or replace.
I like saving money as much as the next person, so I've put the Boneyard to the test to see if it's worth a gamble on what I consider to be a crucial piece of equipment for any home gym.
I purchased the following three barbells over the last six months from the Boneyard:
Read on for details of my experience with the Boneyard versions of each bar.
Rogue Training Bar Review
The Rogue Training Bar is a 28mm bar built to the same specs as their Olympic Weightlifting Bar, but made with bushings instead of bearings in the sleeve construction to bring down the cost.
This particular bar is sold with two finishes for the shaft – black zinc and cerakote.
I happened to pick one up from the Boneyard finished in stainless steel.
Rogue doesn't offer a stainless steel shaft as a finish option for the Training Bar, so you may be wondering how this bar is even a thing.
I've learned through conversations with customer service that the Training Bar is constructed with stainless steel and finished with a zinc or cerakote coating. If a Training Bar doesn't pass a quality check before the finish is applied, as long as it's usable it goes to the Boneyard as is, with no finish.
I don't know why they don't just offer it in stainless, but whatevs.
I found one of these bars in the Boneyard, and I bought it to compare to the similarly spec'd American Barbell Training Bar I recently tested (FYI – the AB Training Bar is a really good barbell).
Specs
28mm bar diameter
20kg weight
190K PSI tensile strength
Bronze bushings
medium knurl, full uniform pattern
Olympic markings w/ no center knurl
Finish: zinc or cerakote shaft*, bright zinc sleeves (*Boneyard Bar versions can also have a stainless steel shaft)
The Training Bar was extremely dusty when I pulled it out of the shipping tube, but after cleaning it off I couldn't identify the issue that consigned it to the Boneyard.
The knurling was properly tracked and I would have expected the very minor blemishes on the bar to be hidden by a zinc or cerakote coating, so only Rogue knows why this bar didn't make the cut.
The best feature about this bar is the knurling. It's a dense pattern pyramid-shaped pattern that really grips my hand, providing a very secure grip. Combined with the stainless steel finish, I have no worries of ever dropping this bar regardless of how sweaty my hands get.
On the other hand, the knurl is just a little bit too aggressive for my preference, since high rep snatch and clean work with this bar tends to tear at my calluses.
Knurling preference differs for everyone though, so I'll just call the knurl on the Training Bar medium-sharp and move on. I'm guessing the missing coating would have softened the knurl just a bit, but probably not by much.
Sleeve spin is adequate for a bushing bar. The sleeves have no side to side play, but they do have slack between the shaft and sleeve that cause the bar to rattle a bit.
It doesn't affect the performance as far as I can tell, but it does make the bar somewhat noisy to use.
The Rogue Training Bar is not the nicest barbell I own, but far from the worst I've ever seen.
Considering how expensive stainless steel bars can be, I think this bar is worth buying if you can find a stainless version in the Boneyard.
Summary
The Rogue Training Bar is the only Boneyard Bar I had no quality issues with. The unfinished stainless steel knurling is great, although it's a touch too aggressive for my personal preference. However, stainless steel bars are expensive and the Training Bar is a good buy if you can find this particular finish in the Boneyard. This bar was my first experience buying from the Boneyard and it was a positive experience overall.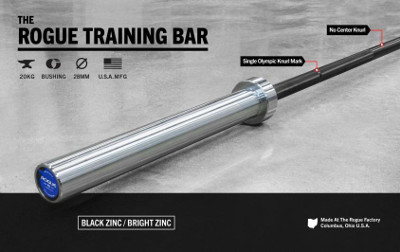 Rogue Junior Bar Review
The second bar I bought from the Rogue Boneyard was the Rogue Junior Bar. I bought this bar to evaluate for my ongoing shorty bar shootout review, since I've decided to extend the criteria to include 25mm diameter barbells.
Unlike the Rogue Training Bar, the Junior Bar offered in the Boneyard was a fully finished bar. The bar I received had some very noticeable scratches and blemishes on the collars and sleeves, which may explain how it ended up in the Boneyard.
Specs
190K tensile strength steel
Diameter: 25MM
Weight: 10kg
Overall length: 66.80"
Loadable sleeve length: 6.625"
Distance between the inside edge of the sleeves: 52.18"
Bronze bushings
Dual knurl marks w/ no center knurl
Finish: black zinc shaft + bright zinc sleeves
I had issues with this bar right out of the tube. One of the sleeves would not spin freely, as if there were something stuck between the sleeve and the shaft.
It took quite a bit of manual force to even get the sleeve to rotate, but it would not spin at all.
Even though this is a Boneyard bar with no warranty, Rogue does advertise these bars as being usable, and the bar I received was nowhere near usable.
So despite the no return stipulation, I decided to ask for a Junior Bar replacement.
I contacted Rogue and sent them video evidence of the stuck sleeve. Rogue customer support replied and suggested I apply 3:1 oil to the sleeve, stand it upright, and let it sit overnight.
I did as they asked, for five nights in a row, re-checking the sleeve each morning. The sleeve remained stuck.
I contacted Rogue again, with another video that clearly showed the oil had not helped. They asked for more evidence, which I provided. They asked for more, which I provided.
I won't bore you with the details, but this back and forth went on for several days before customer service finally agreed the bar needed replacement. They no longer had any Junior Bars available in the Boneyard, so they ended up sending me a brand new first quality Junior Bar instead.
I was grateful they sent me the new Junior Bar, but I spent over two weeks dealing with customer service just to get them to agree the bar was defective and then waiting on a replacement.
I've dealt with Rogue Customer service before on defective products and they've been very responsive and quick to replace the problematic gear, so I have to assume their reluctance in this case was because we were dealing with a Boneyard Bar.
The bar itself is a decent option for workouts in tight spaces, and I plan to add a full review to my shorty bar shootout review so stay tuned for that.
Summary
The Rogue Junior Bar is a compact workhorse I plan to fully review in my shorty bar shootout review.  I like the bar, but the hassle of dealing with customer support for almost three weeks due to receiving a defective bar was not worth the Boneyard Bar discount. I rate this experience as neutral, since despite the hassle I did eventually get a replacement with a non-Boneyard bar.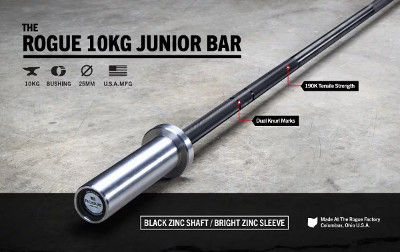 Cerakote Bella Bar 2.0 Review
The third bar I bought from the Boneyard was a Bella Bar 2.0, the high-gloss clear cerakote edition. Clear cerakote was a fairly new addition to the Rogue lineup at the time I bought this bar, so I was surprised to see one in the Boneyard.
I bought it, mainly to see how well the high gloss clear cerakote works as a coating. When I pulled it out of the shipping tube, I realized clear cerakote must complicate the manufacturing process – since it's transparent, there's no way to mask blemishes on the shaft.
I say this because the bar I received had several minor blemishes on the shaft that I'm sure would have been hidden by any color version of cerakote but were plain as day under the transparent coating.
Specs
25mm bar diameter
15kg  weight
Tensile strength: 190,000 PSI
Bar length: 79.13″, loadable sleeve length: 13.00″
Cerakote finish option in custom colors w/ Rogue branding
Sleeve finish: black Cerakote or chrome
Dual knurl marks: Powerlifting and Olympic
No center knurl
Like the Training Bar, the Bella Bar was extremely dusty when I pulled it out of the tube. However, aside from the blemishes on the shaft I mentioned above I couldn't see any obvious reason why this bar ended up in the Boneyard.
The knurling is a similar density to the knurling on the training bar, but at a slightly shallower depth. I can't tell if the Cerakote was applied too thick (which may explain why it's in the Boneyard), or if the knurling was just cut more shallow.
I can definitely see a difference in the knurl style though when I compare this bar with the Training Bar.
The knurl on the training bar is sharper with more sharply formed peaks, whereas the peaks on the Bella bar are slightly dulled, as if the tops had been shaved off.
Regardless, the knurling offers plenty of grip when combined with the Cerakote.
Sleeve spin is okay, and better than the spin on the Training Bar or the Junior Bar.
I'm not a huge fan of logo branding in general, but I have to admit that the "Rogue" logo in the center of the barbell shaft looks pretty good.
I would say the Bella Bar is the nicest of the three Boneyard Bars I've purchased.
Or at least I thought so till I used it.
I take good care of my equipment, and I always wipe my barbells down after use. I used the Bella Bar once for a barbell WOD, and I made sure to wipe the bar down after use like I always do.
I know from experience with Cerakote barbells and kettlebells that this particular coating holds up very well against corrosion.
So imagine my surprise when I started seeing rust appear on the Bella Bar shaft, right where my hands had been during the WOD!
Seeing rust on a brand new cerakote barbell that had only been used once was the last thing I expected.
I reached out to Rogue once again and asked if this was normal.
They asked for pictures, which I provided.
They couldn't explain why the cerakote bar was beginning to rust, but since the issue was purely cosmetic they weren't willing to do anything about it.
We discussed it for several days, but they wouldn't budge and I let it drop. I understand their stance, but I'm disappointed with it.
Boneyard Bar or not, a cerakote-coated barbell shaft should not start rusting after a single use. I'm guessing the coating was defective or not applied correctly, but I'll never know for sure.
What I do know for sure is I'll be replacing this bar with one from a company other than Rogue.
Summary
The Rogue Cerakote Bella Bar is a nice bar, but my clear Cerakote Boneyard Bar version began to rust after a single use. I specifically bought this bar for the corrosion-resistant Cerakote coating, so I'm disappointed about getting a lemon I can't return. I rate this experience as poor, and I would definitely not recommend buying a Cerakote barbell from the Boneyard. It's just not worth the risk of the coating being defective or incorrectly applied.

Verdict
Unfortunately, only one out of my three Boneyard Bar purchase was an entirely positive experience.
I like saving money, but time is valuable too and I've lost quite a bit of time dealing with replacing the two bars that were unusable and defective.
Personally, I doubt I'll ever buy another Boneyard Bar. If I buy another bar from Rogue, I'll just suck it up and pay full price. The risk of getting a lemon from the Boneyard is just not worth the hassle to me.
I strongly suggest steering away from any cerakote barbell in the Boneyard. On the other hand, the Boneyard is a great place to get a deal on a stainless steel bar if you can find one that isn't normally offered in stainless steel, like the Training Bar.
Do you have any questions I didn't cover in the writeup? Feel free to ask them in the comments below!