Urethane bumper plates are a great alternative to rubber plates, but urethane adds to an already hefty price tag for quality Olympic lifting equipment.
The Titan Fitness Urethane Bumper Plates are one of the most budget friendly options I've been able to find for urethane bumper plates.
I have a set I've been using for over a year in the Lab and I'm ready to "weigh in" on them.
Titan Fitness Urethane Bumper Plates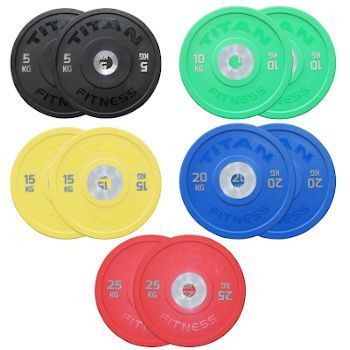 "Weigh in"…  get it?
Because they're weights??
Ahh, forget it.
Titan Fitness Urethane Bumper Plates are a great option for anyone wanting competition-style bumper plates without the rubber smell that comes with new rubber bumper plates.
Introduction
Titan Fitness Urethane Bumper Plates
are styled after 'competition' bumper plates, but made of urethane instead of rubber.
In case you're not familiar with urethane, allow me to quote the relevant info from my Bumper Plate Buyer's Guide:
Urethane is a synthetic compound that combines some of the best properties of plastic and rubber. Urethane is highly resistant to abrasion, cutting, and tearing while still maintaining enough flexibility to resist impact damage and deformation. In other words, you can beat the heck out of stuff made of urethane, which makes it an ideal material to make bumper plates out of.
So yeah, urethane bumper plates are extremely durable, and they have a few other advantages over regular rubber bumper plates that make them worth considering:
Low/no bounce allows faster reset of the bar for quicker reps
Thinner profile than rubber bumper plates allows for more weight loaded on the bar
More vibrant coloring than rubber plates
Odorless…no rubber smell!
In my opinion the lack of a rubber smell is by far the best benefit to buying urethane plates.
My home gym is inside my house and doubles as my home office, so I spend a lot of time in this room. I've tested and reviewed many different brands of rubber bumper plates over the years, and all of them gave off a significant rubber odor, even the ones marketed as 'low odor'.
Believe me, when you're in an enclosed space with virgin rubber bumper plates for an extended period of time, even 'low odor' eventually translates into 'smells like a tire shop in here'.  That's just the nature of rubber.
On the other hand, urethane has no odor. If you or anyone in your household is sensitive to strong odors, then consider urethane plates. You'll thank me later.
At the time I published this article the Titan Fitness Urethane Bumper Plates are the most affordable option for urethane plates with weight denominated in kilograms that I've been able to find.
If you're more interested in urethane plates with weight denominated in pounds, check out the Vulcan Strength Urethane Bumper Plates (full review) instead.
Specifications
Titan Fitness Urethane Bumper Plate
specs:
Available in kilograms and pounds
Color-coded in 5 vibrant colors for easy identification.
Raised plate lip making picking up the plates easier.
Durometer rating of 90 for a minimal bounce on drop and a durable design.
Hard Chrome Insert.
Set of 5 pairs (5 KG, 10 KG, 15 KG, 20 KG, 25 KG).
Weight: 150 KG | 330.64 LB
Weight Tolerance: +/- 1%
Collar Opening: 50.6 mm
Plate Diameter: 450 mm (5KG is 415 mm)
Plate Widths: 24 – 56 mm
Durometer Rating: 90
Color: 5 KG (Black), 10 KG (Green), 15 KG (Yellow), 20 KG (Blue), 25 KG (Red).
Unboxing
I bought a full 150kg set of the Titan Fitness Urethane Bumper Plates during a Black Friday sale, which shipped promptly via FedEx.
They shipped via FedEx Freight strapped to a pallet, so I got a call from FedEx asking if I had a loading dock they could back a truck up to.
Um, what??
Not sure what that was about, but long story short I went to my local FedEx distribution center to pick them up off the pallet myself.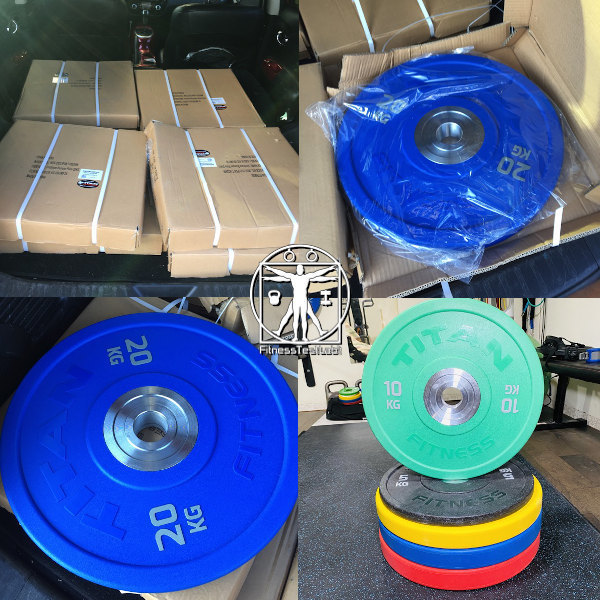 Since all the boxes were shipped on a pallet they were well secured and protected.
The plates were individually wrapped in a plastic bag, but no padding was included.
Impressions
The first thing that stands out about the Titan Fitness Urethane Bumper Plates is the color.
These things really pop!
I have to be honest, I was a little put off by the vibrant color of these plates at first. I'd been using my Rogue Competition Plates (full review) for over a year at this point and I'd gotten used to their drab color.
By way of comparison, the Titan urethane plates looked like toys, not serious workout equipment.
However, I was able to get over my initial skepticism, and I'm glad I did.
I don't think the pictures I took really do these plates justice. In person the color is even more vibrant than what comes through in the images.
The metal insert is a single piece of hard chrome, which may or may not be a good thing depending on who you ask.
For example, the Rep Fitness Competition Plates (full review) have a three-piece design that uses a separate inner ring. According to them, this design is better than a single-piece design for the following reasons:
Many competitor's competition plates feature a single solid steel disc, and that design ends up failing at the point where the rubber and steel meet because all of the force is transferred there. Our extra inner steel ring, combined with a patented means of connecting to the rubber plate, results in better absorption and dispersal of force which means better durability.
For what it's worth, I don't think most people working out at home will ever have to worry about this issue. It might be a different story for plates used in a more punishing environment like a CrossFit gym.
All of the lettering on the plates is raised, and the weight value on each plate is painted for easy visibility.
The center steel disc has an extra raised ring of rubber around it to protect it from metal-on-metal contact between plates.
Real world use
I've been incorporating Olympic lifting into my training regimen ever since I built a DIY lifting platform for the Lab, and I've been doing a lot of deadlifting lately as well.
So, I've done plenty of lifting with the Titan Urethane Bumper Plates, including many unintended drops.
Perhaps unsurprisingly, the plates work just fine.
What is surprising is that after almost a year and half of near daily use they still look almost new.
In fact, if I was more diligent in wiping chalk off them I think they would look brand new. The urethane is really tough, and nothing I've done so far has even made a scratch on them.
Granted, I only drop them on a dedicated platform, but I've done the same with my Rogue Fitness and Rep Fitness plates and seen wear and tear on those.
Another nice feature of these plates is having a 5kg plate that matches the rest of the set, but slightly smaller to protect it from drops.
When I was researching urethane plates, I read some comments stating urethane is much more slippery than rubber.
While this may be true in general, I've not found it to be an issue with the Titan Urethane Bumper Plates.
The Titan Urethane Plates have a texture which makes them easy to hold on to even when my hands are sweaty.
Plus, the outer edge is raised with a rounded lip that allows me to get my fingers under the plate when lifting it off the ground.
When I first bought the Titan Fitness Urethane Bumper Plates I also owned a set of Rogue Competition Bumper Plates (full review).
I used both sets of plates interchangeably over the test period and never noticed a difference in terms of performance.
I did notice a difference in terms of plate width, especially for the heavier plates. The Titan Urethane plates are noticeably thinner.
In terms of pure specs, the Titan Fitness plates have a slightly better Shore Durometer rating (a measure of a plates "bounciness"), but the four-point difference wasn't really noticeable during my testing.
Both of these plates are essentially dead blow, meaning they have hardly any bounce.
Speaking of which, if you plan to do fancy-pants CrossFit-style weight drops,  be aware that all that kinetic energy has to go somewhere. Since it doesn't go into the bounce, it translates into sound.
This means that drops with competition plates are LOUD, much louder than regular virgin rubber bumper plates or crumb-rubber plates.
If you lift inside your house or even in your garage, be advised that you'll be making a lot of noise when you drop a bar loaded with competition bumper plates.
This applies to pretty much any competition-style bumper plate, not just the Titan Fitness Urethane Plates.
Weight tolerance
The Titan Urethane plates claim to have a weight tolerance of +/- 1%, so I weighed them just for the heck of it.
None of the plates was spot on in terms of stated weight, but they all were well within the 1% tolerance.
We've reached the point where I usually discuss what I didn't like about the product I've tested.
However, I don't really have any nits to pick with the Titan Fitness Urethane Plates.
These plates are a good buy as far as urethane plates go and they work as advertised.
In fact, I liked them so much I ended up selling my Rogue Fitness Competition plates (full review) in favor of the Titan Fitness Urethane Plates.
Conclusion
The Titan Fitness Urethane Bumper Plates are a great alternative to rubber bumper plates, especially if you are sensitive to strong odors.
They look good, they work great, and unlike rubber plates they have no odor whatsoever.
Urethane bumper plates are also more durable than rubber, so this single investment should last you for as long as you're willing to lift them.
Olympic weightlifting gear is just plain expensive, but Titan Fitness is managing to make the sport a bit more accessible for home gym enthusiasts.
Titan Fitness Urethane Bumper Plates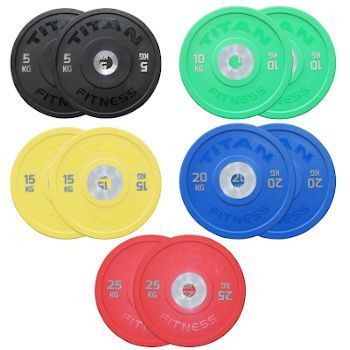 Buy Titan Fitness Urethane Bumper Plates
Got any questions I didn't cover in the review? Put them in the comments and I'll do my best to answer!