Olympic weightlifting has exploded in popularity over the last decade, thanks largely due to exposure from CrossFit. As a CrossFit sponsor and equipment provider, Rogue Fitness is in a unique position to develop gear built to withstand repeated hard use.
The Rogue Fitness Competition Bumper Plates are the same plates used at the CrossFit games, proven to be more than capable of holding up to any abuse you can throw at them in your home gym.
Rogue Fitness Competition Bumper Plates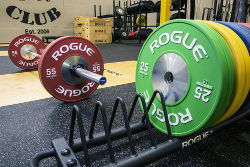 Introduction
I've said this before but it bears repeating – having a home gym is a luxury in and of itself, and having IWF-spec competition plates in that home gym takes it to a whole other level.
I would wager that very few home lifters *need* competition bumper plates to make progress at home, but competition plates do offer some advantages over regular rubber bumper plates that make them worth considering.
Here are a few to start with:
Low/no bounce allows faster reset of the bar for quicker reps
Thinner profile (than regular bumper plates) means more weight can be loaded on a bar
Color coding allows for quick at-a-glance plate math
They look a heck of a lot nicer than black bumper plates
As one of the main suppliers of equipment for the CrossFit games, Rogue Fitness knows a thing or two about making products built for serious use. As a result, the Rogue Fitness Competition Plates are one of the more durable and proven options currently on the market.
I own a set I bought used of Craigslist from a person who exclusively trained Olympic lifting, and the bumpers showed very little signs of wear when I bought them.
In fact, they were my only bumpers for two years straight and they were still in fantastic shape when I decided to replace them with urethane plates from Titan Fitness, which I'll write about some other time.
Specifications
Rogue Fitness Competition Bumper Plate
specs:
Available in kilograms and pounds
Collar Opening: 50.4mm
450mm Diameter (IWF Standard)
Shore Durometer Ratings: 94 ShA
Insert type: Chrome-plated steel disc
Gloss-Matte-Gloss finish with raised lettering
Protective rubber flanges
Weight tolerance: +/- 15 grams of claimed weight
Plate Thicknesses (kg):
Green – 1.15″
Yellow – 1.65″
Blue – 2.15″
Red – 2.5″
Impressions
The Rogue Fitness Competition plates feel well made and solid. They conform to IWF weight/color specifications and the colors were a nice step up from the black bumper plates I was using before.
The metal disc design on the Rogue plates also stands out from the competition. Many other vendors are using a three-piece zinc-plated hub design, while Rogue is using a two-piece chrome-plated design.
I don't claim to know which design is better, but I can say the chrome-plated design Rogue is using looks much nicer than zinc.
All of the lettering on the plates is raised rather than being simply painted on the rubber, and the center steel disc has an extra raised ring of rubber around it to protect it from metal-on-metal contact between plates.
The outer ring is also raised, with a small lip cut at an angle into the edge that allows me to get my fingers under the plate when lifting it off the ground.
Real world use
I've been incorporating a fair amount of Olympic lifting into my training regimen ever since I built a DIY lifting platform for the lab, so I've hoisted a lot of weight with the Rogue Fitness Competition Bumper Plates.
These plates were my only set of plates for two years, and I used them for both powerlifting and Olympic lifting. I don't lift competitively so the weight tolerance isn't super important to me, but I did weigh the plates just to be thorough. Rogue claims a weight tolerance within +/- 15 grams of stated weight, and every plate was well within this margin.
The Rogue plates have an extremely low bounce, essentially a dead blow.  This is good and bad – the dead blow allows for quicker resets between reps but also means that drops with competition plates are loud, much louder than regular virgin rubber bumper plates or crumb-rubber plates.
If you lift inside your house or even in your garage, be advised that you'll be making a lot of noise when you drop a bar loaded with these plates.
To be fair, this applies to pretty much any competition-style bumper plate, not just the ones from Rogue Fitness.
In my opinion, one of more under-rated features of competition bumper plates is their thinner profile.
Competition bumper plates are significantly thinner than bumper plates made completely of virgin rubber, and much thinner than plates made of recycled rubber.
The thinner profile allows for more weight to fit on a bar, which I find especially beneficial for working out in tight spaces because I can fit more weight on my Shorty Olympic bar.
Bottom line
Rogue is the 500lb gorilla in the home gym market, and for good reason. Rogue equipment is solid and reliable, and their competition plates are no exception. These plates routinely get used and abused at the yearly CrossFit games, so you know they are built to last.
I bought mine used and they've been my go-to plates for powerlifting and Olympic weightlifting for two years with no issues whatsoever.
Rogue Fitness competition plates are not the cheapest option available, but they are a no brainer buy if you're looking for a solid set of plates backed up by one of the biggest names in the business.
Rogue Competition Bumper Plates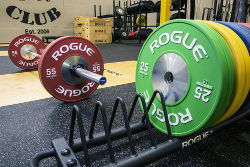 Buy Rogue Competition Bumper Plates
Got any questions I didn't cover in the review? Put them in the comments and I'll do my best to answer!