The Rogue R-3W folding rack is an excellent piece of equipment for any home gym, but especially for those of us who are tight on space.
It is made from heavy-duty steel and has a weight capacity of 1,000 pounds, making it strong enough to handle even the most intense workouts.
The folding design is also a major plus, as it allows for easy storage when not in use.
Bottom line, this is the perfect rack for a home gym where space is at a premium.
Rogue R-3W Folding Squat Rack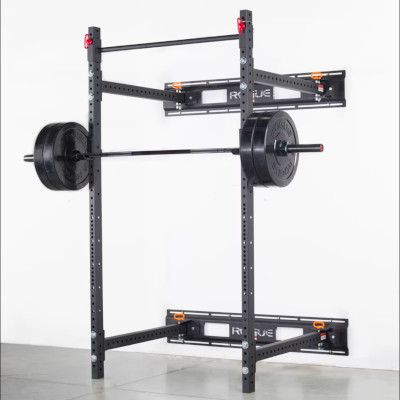 Introduction
The Rogue R-3W Folding Rack is designed to be a space-efficient wall-mount unit that can be easily folded inward or outward.
Rogue has created a unique hinge-and-pin system that ensures the rack is both easy to install and sturdy.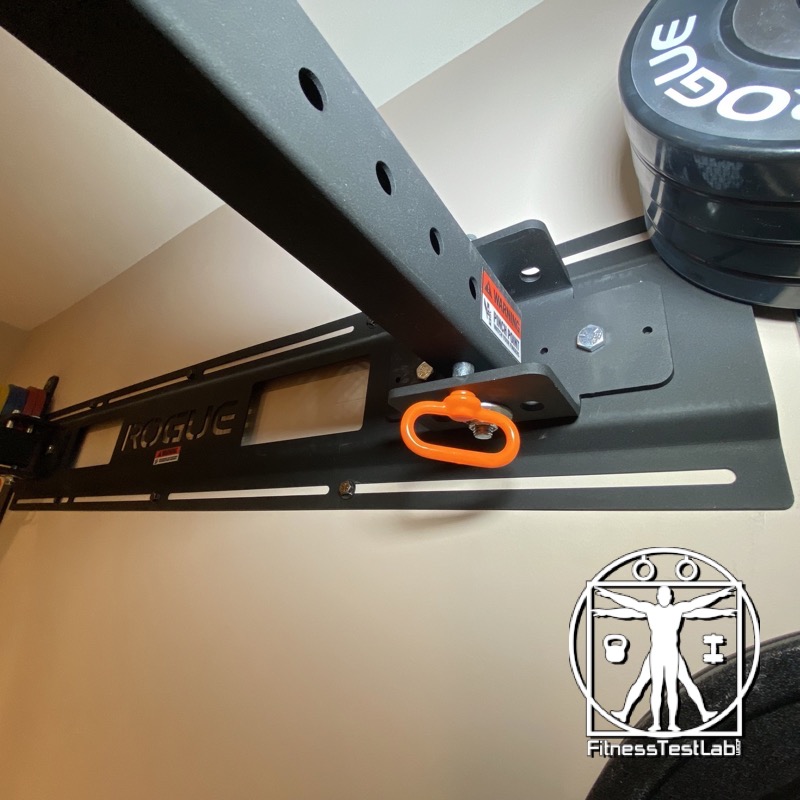 The Rogue R-3W Folding Rack features 2×3″ 11 gauge steel uprights with Westside hole spacing and 2″-on-center spacing above and below.
The thick steel allows the R-3W to function as a squat stand, pull-up rig, or power rack with a level of sturdiness that surpasses lighter fold-back setups that use thinner steel.
It is compatible with most Infinity Series accessories and comes with a quick-attach pull-up bar, Infinity J-cups, and mounting brackets.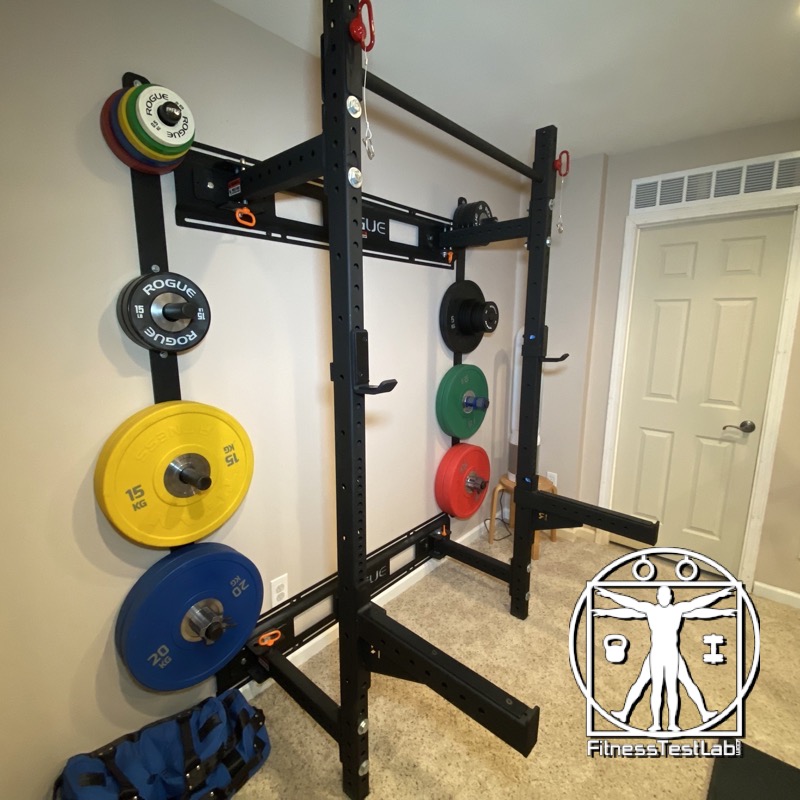 The rack is available in two depths: 20.5″ and 40.5″. I opted for the 20.5″ version, since both arms can be folded inward.
I also bought the optional mounting stringers and safety spotter arms. I'll discuss those in more detail later in this review.
The base of each upright is covered with a UHMW plastic cap to protect your floor and allow the sides of the rack to freely swing in and out.
In terms of dimensions, the Rogue R-3W sticks out about five inches from the wall when folded, making it very compact and easy to fit in most home gym spaces.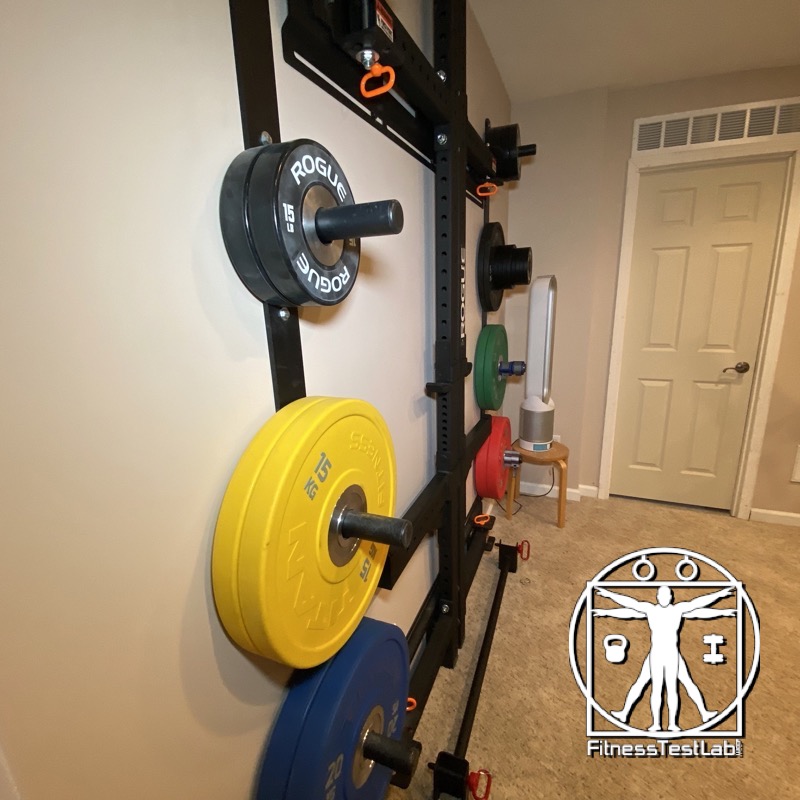 Features
When fully assembled, it stands at just over 7 feet tall and has a depth of either 24″ or 44″, providing plenty of space for a wide range of exercises.
My ceilings are only 8′ tall, which is why I opted for a horizontal folding rack instead of one that folds upward.
One of the standout features of the Rogue R-3W is its adjustable spotter arms, which can be easily moved to different heights to accommodate different exercises and users.
The spotter arms do not come with the rack, they must be purchased separately.
However, I highly recommend them for safety when lifting alone.
If you opt for the safety spotter arms, note that you'll want to be very careful not to drop heavy weight from height onto these arms.
If you do, the force could potentially rip the uprights out from your wall, which would be no bueno.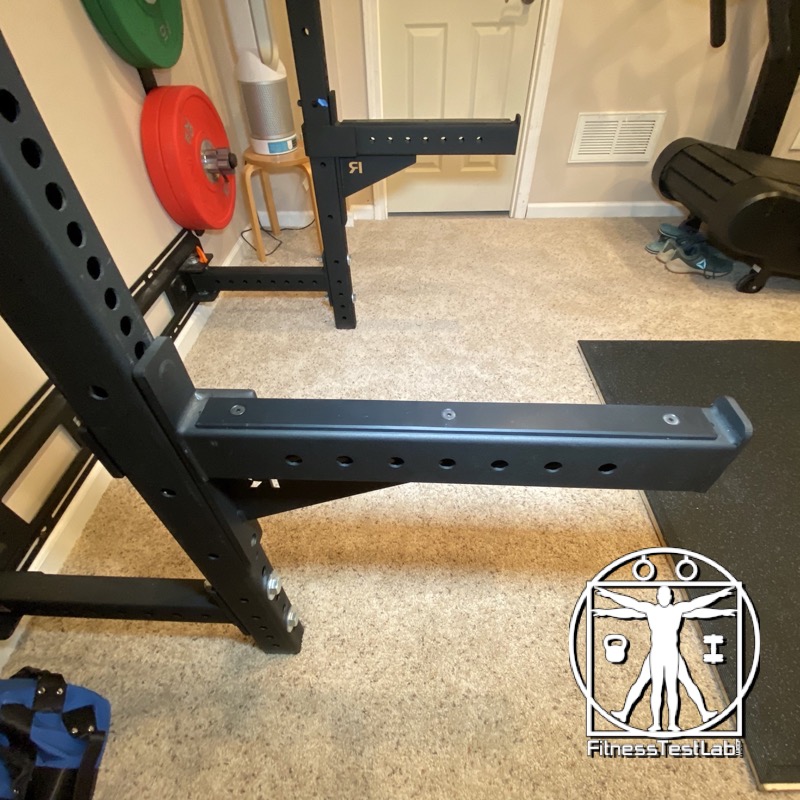 The Rogue R-3W Folding Rack comes equipped with a pair of UHMW-lined J-cups for holding barbells.
It also comes with an adjustable pull-up bar.
The bar is 1.25 inches in diameter and is knurled for a secure grip, making it perfect for pull-ups, chin-ups, and other upper body exercises.
The pull-up bar includes safety pins with a locking mechanism, so if you're into kipping pull ups you can perform them without risk of the bar coming off the rack.
Daily Use
In terms of daily use, the Rogue R-3W has proven to be a reliable and versatile piece of equipment.
The folding design also makes it quick and easy to fold and unfold the rack, which can be done in about two minutes.
The adjustable spotter arms and pull-up bar are also great features, as they allow for a wider range of exercises and support a variety of users.
It is rock-solid and doesn't budge even under heavy loads, allowing me to work out safely by myself.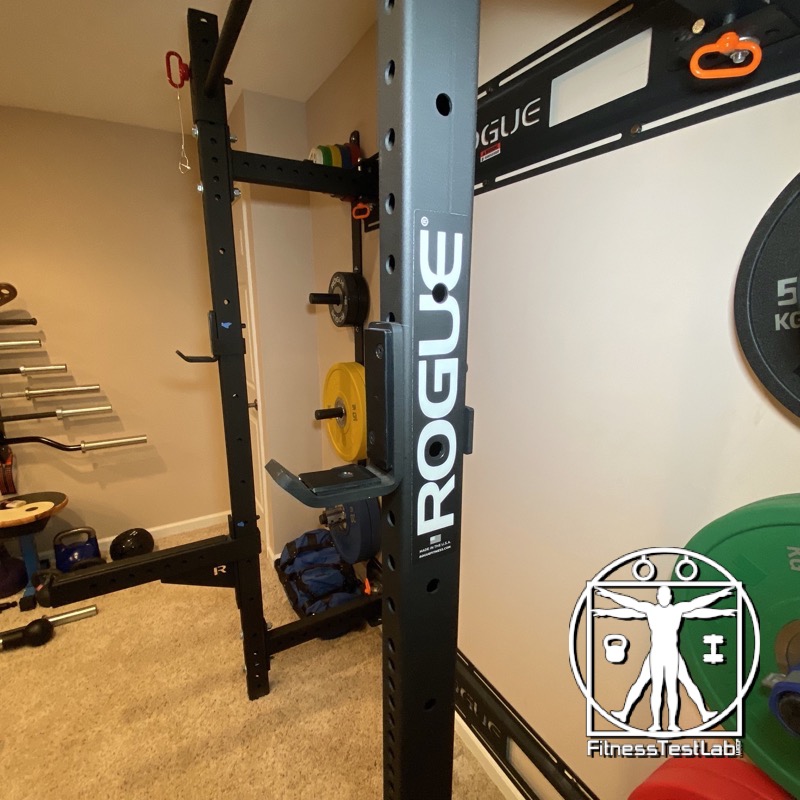 Installation
When it comes to installation, the Rogue R-3W is relatively easy to assemble, though it was time-consuming to do on my own.
Overall, it probably took me about two hours to put it all together.
The instructions are clear and detailed, and all necessary hardware is included.
The wall mount stringers are unfortunately not included with the rack and must be purchased separately.
I debated whether or not to buy them, and I considered using wood for the backing mounts.
However, I thought the stringers would look better (and they do), so I paid the extra money for them.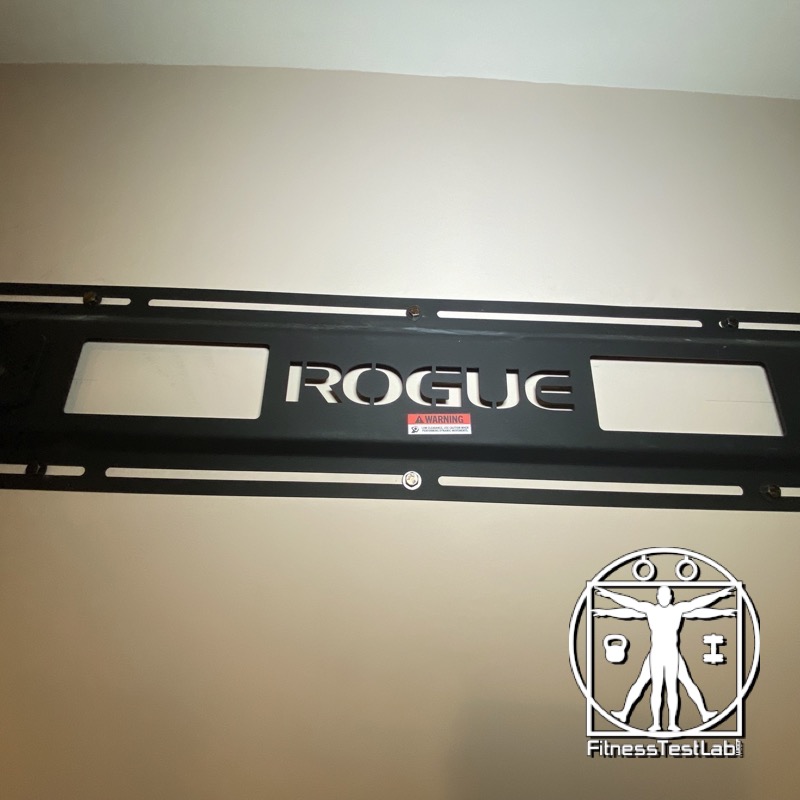 I'm glad I did buy the stringers, since they add a nice extra level of stability to the installation.
I was concerned about mounting the bottom stringer above the baseboard in my workout room, but thankfully there is enough leeway in the pin assembly for it to not be a problem.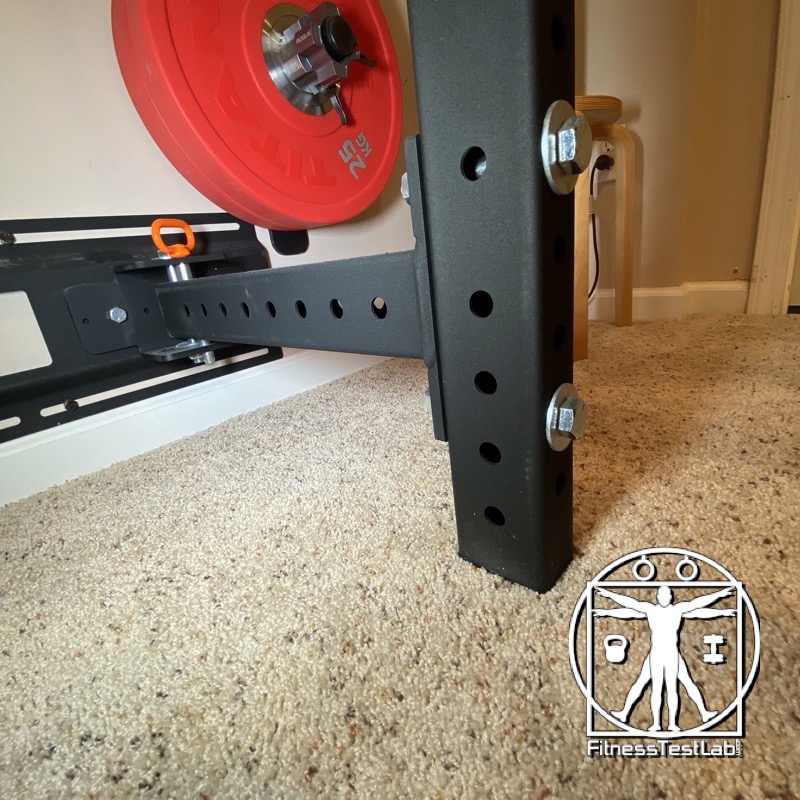 Conclusion
Overall, I am extremely satisfied with my purchase of the Rogue R-3W folding rack.
I highly recommend it to anyone in need of a compact and reliable power rack for their home gym.
It is well-built, versatile, and offers great value for the price.
Bottom line, this is the perfect rack for a home gym where space is at a premium.