Flybird Fitness adjustable dumbbells
are a strong entry in the crowded adjustable dumbbell market.
While not bringing anything new to the category, they are well made and available at a decent price.
Flybird Fitness Adjustable Dumbbells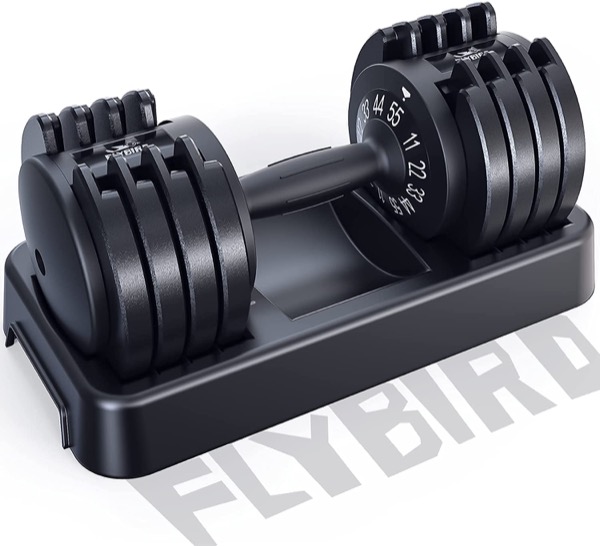 Introduction
I was sent two 55lb Flybird Fitness adjustable dumbbells by Flybird for evaluation purposes.
Each dumbbell shipped individually, well protected in styrofoam within a strong cardboard box.
Each box was also wrapped with supporting plastic straps, although the straps didn't survive shipping as well as the rest of the box.
Regardless, both dumbbells arrived undamaged.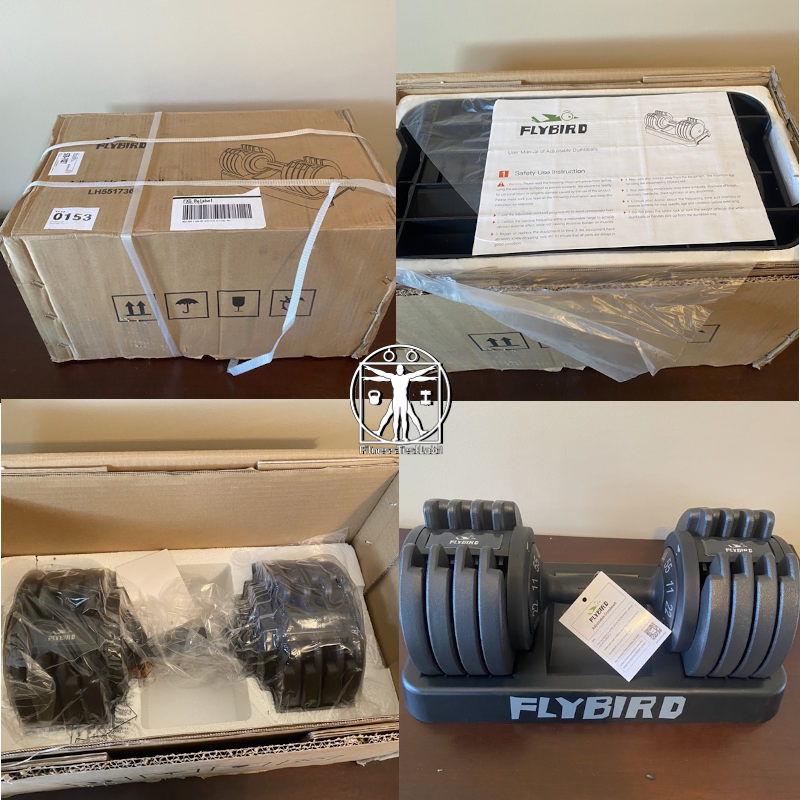 Testing
One of the biggest pros to the Flybird Fitness adjustable dumbbells is that they are extremely easy to adjust between weights.
To adjust the weight you simply twist the handle to your desired weight.  When you pick up the handlebar, a number of cast iron weight plates corresponding to your selected weight will attach to the handle.
The handlebar rotates easily with a clicking sound as it locks into the different weights. The speed of adjustment is a huge pro as it saves time and effort during workouts.
The weights feel sturdy and don't jiggle or clink when I pick them up. They feel very solid to use.
The only con I found was that the weight can only be changed in increments of 11 pounds, which makes for odd weight amounts ranging from 11 pounds to 55 pounds.
Personally, I would prefer the weight to be adjusted in increments of 10 pounds, but this is a minor nitpick.
I also appreciate the fact that the weight is denominated in pounds rather than kilograms.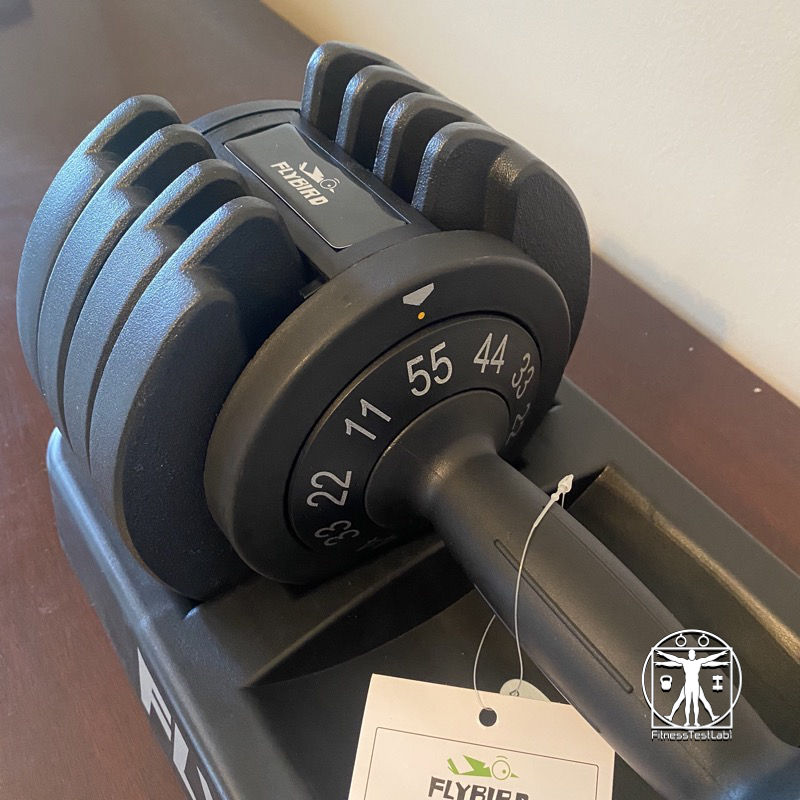 One point of caution to new users: DO NOT lift these weights off the base quickly.
While it's easy to adjust the weight, take a little extra time to make sure the weight is secure with a proper click-into-place before pulling them off the cradle.
This way you will avoid pulling out unsecured plates and having them fall on your floor.
Usability
The biggest benefit to using Flybird Fitness adjustable dumbbells is saving space and cost. One set covers multiple weight increments, so you only need to buy and store the one set rather than multiple fixed weight dumbbells.
As long as you can work with one or more of the weight increments the set supports then you are good to go and you'll save a lot of storage space.
However, this set does have limitations. Unlike loadable dumbbells, the main drawback to these adjustable dumbbells is that the weight of this set can only be changed in increments of 11 lbs.
This means when you're ready to move up in weight you'll need to be ready to lift 11 lbs more per arm! This could be a lot for some people, especially when moving from 44 lbs to 55 lbs.
So basically, you're trading weight flexibility for storage space and cost, which may or may not work for you depending on your fitness goals. If you are working on a progressive overload program that requires you to constantly add small amounts of weight, these aren't the dumbbells for you.
Also keep in mind that these dumbbells are sold individually, so if you want a pair you'll need to buy two.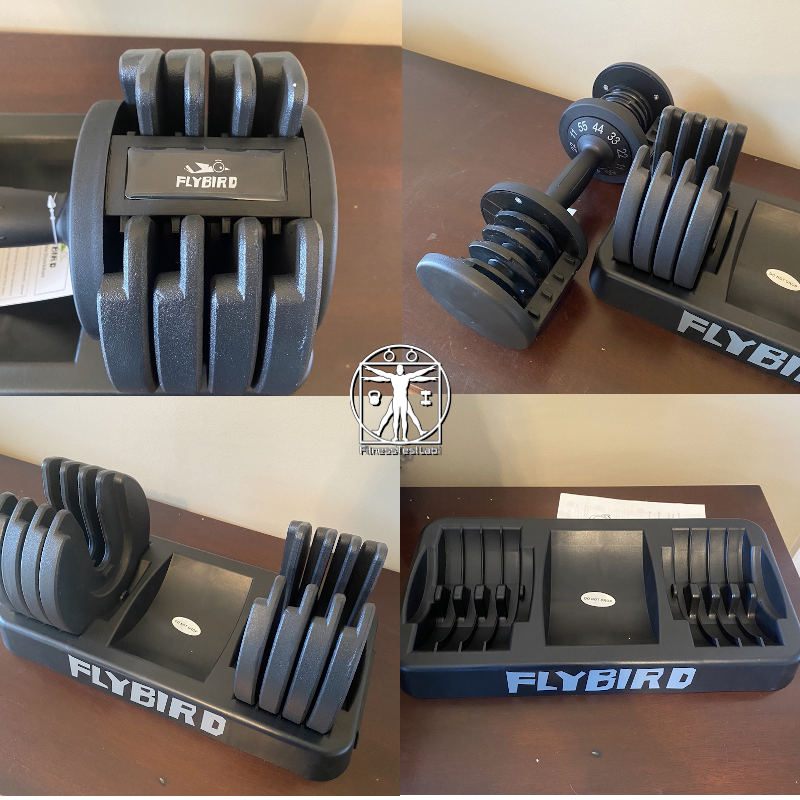 The Flybird Fitness adjustable dumbbells are impressive in their versatility and construction.
The units are solid and sturdy with no movement of the plates whatsoever. The handles are comfortable and firmly attached to the plates.
The handles are comfortably shaped, providing a secure grip in all exercise positions. The plates are coated with an anodized finish, making them very durable.
Changing through the 5 available weight settings requires a simple twist of the handle, and each weight is marked with a satisfying 'click'.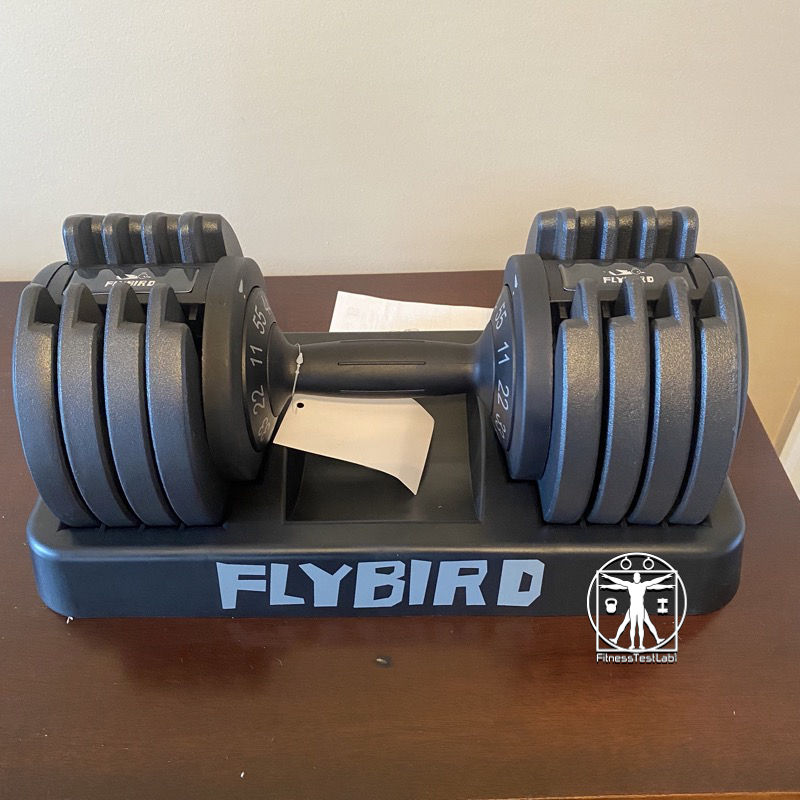 Bottom Line
The Flybird Fitness adjustable dumbbells aren't going to work for everyone but they are perfect for those like me who are short on space. I like having equipment like these dumbbells that can be used for many things and take up minimal space.
The price on these is pretty good, especially when compared to similar products like the Bowflex adjustable dumbbells. If you are in  need of dumbbells but are short on space, the Flybird Fitness adjustable dumbbells are a great option.
I hope you've found this review helpful. If you have any questions I didn't cover in the review, post them in the comments below and I'll do my best to answer them!
Flybird Fitness Adjustable Dumbbells