A good squat rack is arguably one of the best and most versatile pieces of equipment to have in your home gym. I recently upgraded from a pair of squat stands to a Garage Series Squat Rack and spotter arms from Fringe Sport.
This particular rack has a lot of nice features for a home gym enthusiast. I highly recommend it, especially if your home gym is inside your house like mine is.
Fringe Sport Garage Series Squat Rack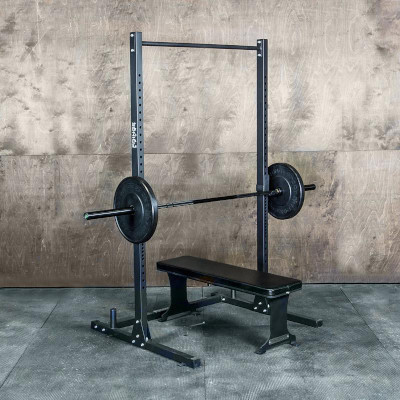 Requirements
It all started with pull-ups.
I recently moved into a new home, and my wife absolutely forbade me from mounting my gymnastic rings from the ceiling like I did at our old house.
I tried telling her how important pull-ups were to a well balanced exercise regimen, but she wasn't having it. Apparently having wooden rings dangling from our ceiling interferes with our home's Feng Shui or something, I don't know.
So I needed an alternative.
I've been using a pair of Valor Fitness BD-9 squat stands for the last few years, and while I got a lot of use out of them, no one would ever claim they were the most stable option for heavy lifting.
I figured I could maybe find a rack that would provide a decent spotter arm option and have a pull up bar, so I could drink two beers with one stein.
It would also be great if the rack didn't take up more than 4'x4′ of floor space, because space is at a premium in the Fitness Test Lab.
Pretty much every big-name fitness company has a rack that almost meets these requirements, but the majority of them are too tall, too long, or too wide to fit in my spare bedroom home gym.
At 84.5″ tall with 4'x4′ footprint, the Fringe Sport Garage Series Squat Rack is the only one I found that not only fits in my spare bedroom home gym, but actually leaves enough clearance for me to hoist my huge noggin above the bar without bumping my head on the ceiling.
I'm also a big fan of the price, it's much more affordable than most of the similar options sold by other companies.
I'm gonna let Peter from Fringe Sport talk about how they got to this price point, since he does a better job than I ever could:
Specifications
Here's everything you need to know about the Fringe Sport Garage Series Squat Rack:
Weight: 80 pounds

Footprint Dimensions: 84.5″ tall x 49.5″ wide x 46.5″ deep

Single-piece uprights

Pull Up Bar – 1.25″ diameter (no knurling)

Constructed of 2″ x 3″ powder coated 12-gauge steel tubing

5/8″ hole diameter, Westside spacing for precise bench press placement

Pair of UHMW-lined J-cups included

Built-in weight horns (5.5 inches long) for plate storage and increased stability

Floor bolting option offers a permanent stability option.

Tested for 450 lb weight capacity

Durable matte black, powder coat finish, with black powder coat on the J-cups.

Uprights have Westside spacing for precise heights (starting 22 inches from the floor)
Unboxing and Assembly
The Fringe Sport Garage Series Squat Rack ships in one big-ass box, weighing about 80lbs.
So yeah, your UPS guy is going to hate you ¯\_(ツ)_/¯
The spotter arms are purchased and shipped separately, in a much more reasonably sized (yet still large) box.
Assembly is straightforward, with clear instructions included in the box.
The rack was mostly easy to assemble myself, using an impact driver and a crescent wrench.
The one hard part was installing the pull-up bar, and that's only because I didn't have someone handy to hold up the other end of the bar while I installed the first bolts on one side.
But, I got it done because I'm good like that, and the total time from unboxing to final assembly was about an hour.
Impressions
I'm impressed with the overall quality of the Fringe Sport Garage Series Squat Rack, the pieces appear to be well made.
All the parts fit together perfectly and the rack feels solid. I can rock the uprights left and right a little bit if I try hard, but not much.
Front-to-back stability is great. Each upright is secured to the base by two gusset plates, which allow zero back and forth movement.
The uprights also feature Westside spacing in the bench press zone, which is great for placing the bar exactly where it needs to be.
There are holes in the bottom frame for mounting the rack to a platform or into concrete, and the bolts to do this are included.
However, I chose not to do this, opting instead to keep some bumper plates on the back weight horns to add stability.
Real world use
I've been using the Fringe Sport Garage Series Squat Rack for squats, bench press, pull-ups, overhead press, rack pulls, dips with gymnastic rings, etc, and it just works.
This rack is solid, but also lightweight. The entire rack only weighs about 80lbs, so you heavy lifters may find yourselves unintentionally moving or tilting the rack if you don't take steps to stabilize the base.
As mentioned previously, the rack can be bolted to the floor or to a platform to completely secure the base. Another option is to keep some weight plates on the back weight horns, which is what I do and I've never had a stability problem.
The J-cups and the spotter arms are all lined with UHMW, which plays nice with the knurling on my barbells.
The Fringe Sport Garage Series Squat Rack is also very solid as a pull-up bar. I do kipping pull-ups on it and the rack doesn't move, but I'd only recommend doing this if you keep a few plates on the weight horns like I do or bolt the rack into a platform.
The one nit I can pick on this rack is the diameter of the pull-up bar. It's a standard 1.25″ diameter, which is just a touch larger than I'd prefer for optimal grip.
I'd love to see an option for a 1.125″ bar as an alternative for those of us with smaller hands. An option for a knurled pull-up bar would be great as well, even if sold at a small premium over the standard option.
Bottom line
Sometimes the best equipment is the stuff you never have to think about. It just works so well that it kind of fades into the background, and you never pay attention to it unless something breaks.
The Fringe Sport Garage Series Squat Rack has reached that level for me. I use it for powerlifting, pull-ups, band work, Olympic ring work, and all kinds of other crazy stuff.
It just works, and it works well especially considering how affordable it it.
It perfectly fills my needs as outlined in the requirements section above and is now a permanent fixture in the Lab.
Feel free to ask any questions in the comments if there's something you'd like to know that I didn't cover!

Fringe Sport Garage Series Squat Rack