Kettlebells have become a popular fitness tool over the last decade, and for good reason. They're versatile, efficient, and cost effective.
I've learned through trial and error that kettlebells are not all created equally. It's important to consider several factors when choosing a kettlebell, which is why I put together this guide to answer common questions.
I want to help you choose the right kettlebell for your needs, and once you've gone through this guide you'll have all the information necessary to make an informed choice.
What types of kettlebells are there?
The two main types of kettlebells are the classic "Russian" style made of cast-iron and the "Girya" or competition style made of steel. Classic cast-iron kettlebells increase in size with each increase in weight, while competition kettlebells are the same size regardless of weight. Competition kettlebells are typically differentiated by color coding. Some brands of cast-iron kettlebells also have color coding, but not all.
Both types of kettlebells will work for general home fitness purposes. The main advantage of classic cast-iron kettlebells is a lower overall cost. The main advantage of competition steel kettlebells is the consistent size. Consistent sizing allows a lifter to focus on strength gains rather than having to adjust technique to accommodate different kettlebell sizes.
There's also a type of hybrid kettlebell sometimes referred to as a competition fitness kettlebell. This is typically a competition-sized kettlebell not intended for use in kettlebell sport. These kettlebells aren't designed to be used in competitions so they don't have to meet stringent weight tolerance requirements. They can therefore be offered at a lower cost than true competition kettlebells while retaining the benefit of consistent sizing.
You may also come across kettlebells coated in vinyl or plastic. Some of them have oddly shaped bodies, handles, or both. They tend to be cheap and well reviewed on sites like Amazon, but don't be led astray. They're not suitable for serious kettlebell training. Invest in a quality product made by a company that specializes in kettlebells rather than something made by a company looking to cash in on a trend.
There are a few companies making kettlebells with faces on them, like monkeys, zombies, skulls, etc. Although they look cool, I don't recommend them. Faces add to the cost but detract from the usefulness because the face often can't be comfortably held against the forearm.
What type of kettlebells should I buy?
A cast-iron kettlebell is the most cost-effective option for most people intending to work out at home. However, competition steel kettlebells shouldn't be ruled out altogether. Rapid progress can be made with competition kettlebells, which may justify the higher cost.
Another factor to consider is your kettlebell training style. There are two main styles of kettlebell training. One is referred to as "hard style" training, which emphasizes powerful movement in a short period of time. The other is "girevoy sport" or kettlebell competition sport, which emphasizes efficiency of movement over a long duration of time. Kettlebell sport sessions are typically ten minutes long and the lifter is not allowed to put the kettlebell down in that time.
In general, hard style training is done with cast-iron kettlebells while kettlebell sport is done with competition steel kettlebells.  If you're drawn primarily to one of these two types of training the choice is easy – go with the type of kettlebell best suited to your interest. If you aren't motivated by competing with others but like the idea of working with kettlebells of a consistent size, consider competition fitness kettlebells.
What size kettlebell should I buy?
Kettlebells generally range in weight from 8 kg (18 lb) to 48 kg (106 lb). It's important to choose the right weight to start with in order to learn proper technique. There's a sweet spot between too light and too heavy that will vary for each person. The kettlebell needs to be heavy enough to put sufficient load on your muscles, but not so heavy that it forces you to compromise your technique.
Most of the sizing advice I've seen suggests the average man start with a 16kg bell and the average woman start with a 12kg bell. However, such broad advice isn't helpful without a baseline description of what 'average' is.
If you're a healthy and active person under 40 years of age with no history of injuries or back pain, the standard advice will probably apply. If you spend a lot of time sitting, are above 40, or have a history of injuries or back pain you may benefit from starting with a lower weight. If you're very physically active and experienced with weight training and/or endurance training, start with a higher weight.
I've provided some general guidelines in the infographic below that can be applied in most cases, but they won't apply in all circumstances. If you're an outlier, use your best judgement when applying the guidelines.
Kettlebell Size Recommendation Infographic
How many kettlebells should I buy?
You really only need one to start with, but I recommend buying at least two – one for single-hand work and one for two-hand work.
The size recommendations from the previous section cover single-hand work. For two-hand work, a good rule of thumb is to take your recommended weight for single-hand work and add 8 kg. For example, if your recommendation is a 16 kg kettlebell, buy a 24 kg kettlebell for two-hand work.
If you can only afford one to start with, then just buy one. Don't worry about outgrowing it. As you advance in your training there will always be more challenging ways to use your first kettlebell.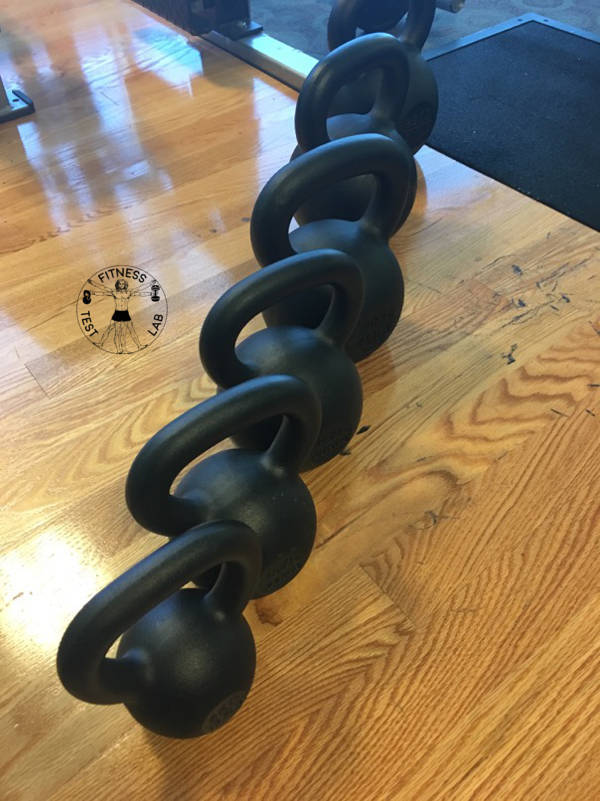 How do I choose a kettlebell?
I've worked with many different brands of kettlebells and I've defined three simple criteria that a quality kettlebell must meet.
First criteria – a clean finish. The kettlebell surface and handle should be smooth and free of artifacts left over from the casting process. You should not have to file or sand down the handle – this is indicative of a low quality kettlebell. This extends to the base of the kettlebell, which should be ground completely flat. Imperfections on the handle can pinch or cut skin during movements, and a wobbly bottom hinders the kettlebell from providing a stable base for exercises that require the bell to act as a platform.
Second criteria – a durable coating. The coating must protect the kettlebell from damage and rust. For cast-iron kettlebells, the coating on the handle must provide enough traction to keep hold of with minimal need for chalk while still allowing the handle to rotate smoothly in the palm with minimal friction. For competition steel kettlebells, the handle must hold chalk and the body of the kettlebell must be well protected by the coating.
Third criteria – a handle sized right for your hand. Handle diameters for  competition steel kettlebells will be a uniform size regardless of manufacturer, which is good and bad. Good because you'll only ever have to deal with one handle size, but bad if the standard 35mm diameter handle is too large for your hands. I have medium-sized hands and I've found the standard 35mm diameter is sized just right.
Handle diameters for cast-iron kettlebells will vary depending on the manufacturer. Luckily, I've reviewed many major brands of cast-iron kettlebells. In that review, I make a point of discussing handle dimensions for each brand. The top kettlebells all have handles that aren't excessively large.
Should I buy an adjustable kettlebell?
I don't recommend buying an adjustable kettlebell as your first purchase. With few exceptions, the adjustable kettlebells available on the market are not well suited for serious kettlebell work due to odd shaping of the handle, body, or both. The quality options that do exist are  expensive. You're better off using that money to buy two fixed-weight kettlebells to start with. You can always reconsider a quality adjustable kettlebell later if you decide it will help you achieve your ongoing fitness goals.
What brand of kettlebells should I buy?
I've had the opportunity to work extensively with kettlebells from many major manufacturers. For simplicity's sake I'm going to focus on a handful of companies making some of the best kettlebells available.
I offer recommendations for each category of kettlebell I covered earlier – cast-iron, competition steel, and competition fitness. These recommendations come from my personal experience in seeking the best kettlebells for home use. I currently own or have previously owned every kettlebell in this list.
Cast Iron Kettlebells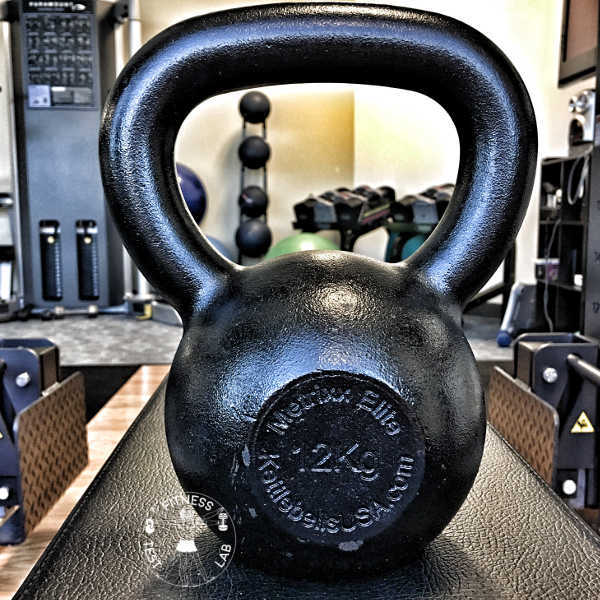 Metrixx® Elite Precision E-coat
kettlebells offer several improvements over a traditional cast iron kettlebell.  First, the handle is wider and thinner for improved grip and comfort. It's by far the easiest cast iron kettlebell to swing with two hands.
Second, the E-coat finish has been reformulated for improved durability and usability. The finish is much smoother than the classic line without added friction.
Third, and most importantly, the Metrixx® Elite Precision line is designed to rest on the same place on your forearm regardless of size. This is a huge benefit that's usually only available with competition steel kettlebells.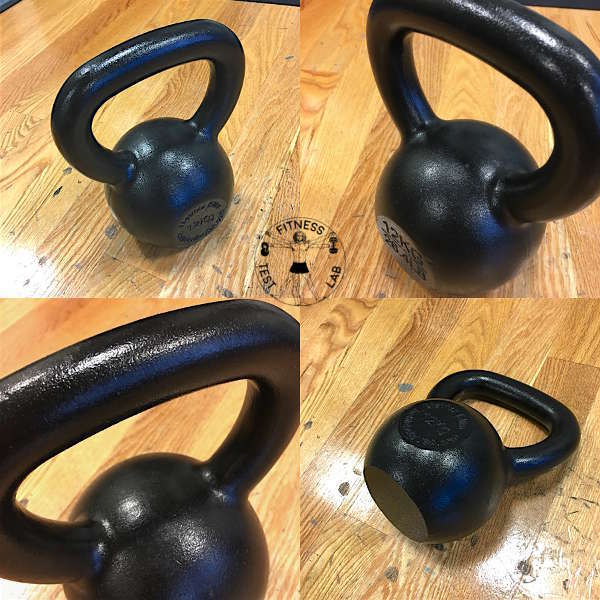 Quite simply, the Metrixx® Elite Precision kettlebell is the best E-coat kettlebell you can buy. Kettlebells USA also makes a Classic E-coat that is similar in style and coating to Dragon Door kettlebells, but with a higher quality finish and much lower price. Kettlebells USA offers many two and three kettlebell sets that sell for less than the combined price of individual kettlebells, so if you're planning on buying more than one consider purchasing a set to save some money.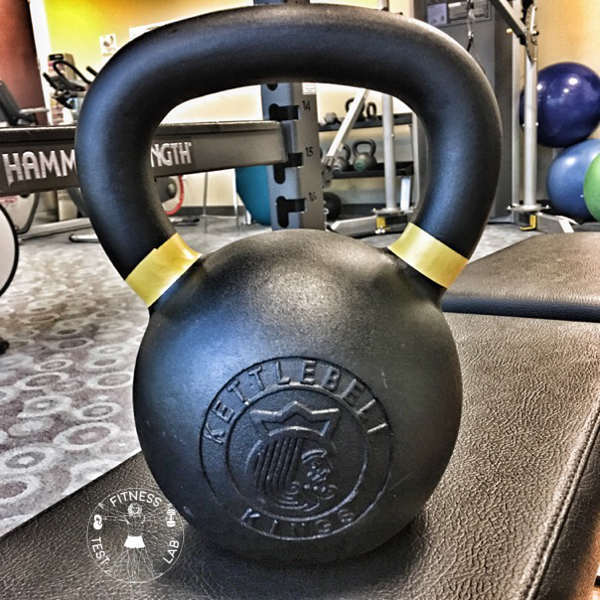 Kettlebell Kings Powder Coat
kettlebells provide an excellent balance between durability and usability. The main benefit of a powder coat over an e-coat is a reduced need for chalk. I train with kettlebells primarily at work and at home, and I can't use heavy chalk at either location.
The powder coat finish on the Kettlebell Kings Powder Coat kettlebells provides just enough texture to maintain a good grip with sweaty palms without needing chalk. I occasionally use chalk when I'm working on high repetition work, but the amount I need is greatly reduced thanks to the powder coat.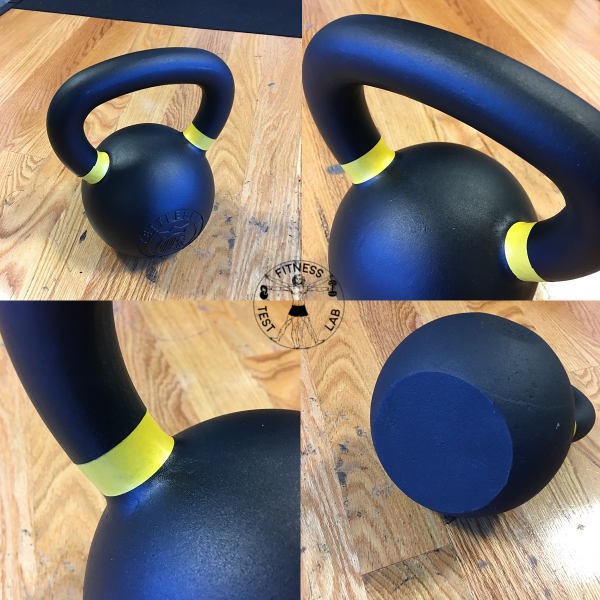 Kettlebell Kings
  offers sets of three or more kettlebells at a discount, and is currently the only vendor offering an option to
build your own set
. Buying in 'bulk' definitely helps bring the price down significantly, so if you plan to go all in on kettlebells consider buying a set to save money.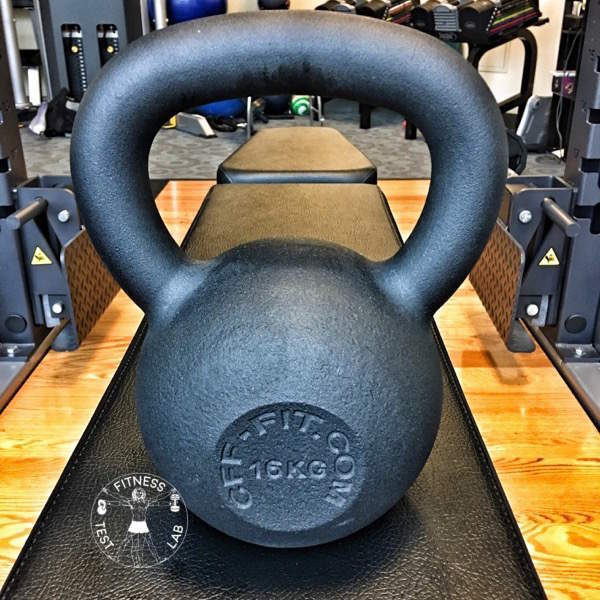 Christian's Fitness Factory K2 Powder Coat kettlebells are designed to be an all around no-nonsense fitness tool that can be used with or without chalk. The feel of the kettlebell was a prime consideration for the design and the care that was taken with it definitely shows.
The finish is very clean and slightly rough, with one of the most durable powder coatings I've seen. The combination of the finish and coat result in a handle that will hold a lot of chalk, but you're probably not going to need it unless you sweat buckets.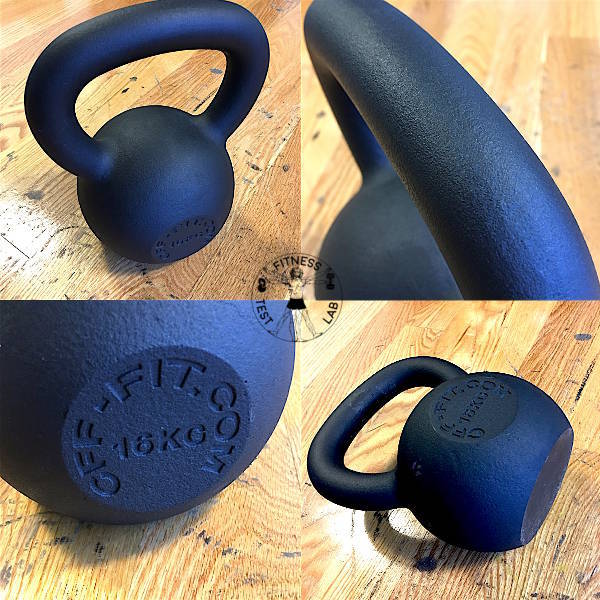 In plain terms, the K2 is a workhorse. It's an old-school kettlebell with a modern minimalist approach. It gets the job done, and done well.
Competition Steel Kettlebells
The Kettlebell Kings Competition kettlebells are a different take on the traditional competition kettlebell design. Most competition-style kettlebells have straight handles with a fairly wide window.  The Kettlebell Kings Competition kettlebell breaks from this convention by sporting a smaller window with a slightly curved handle. The intent is to increase comfort while holding the kettlebell overhead and in the rack position.
I've found the curve of the handle to have a noticeable difference on my training. The curved handle fits nicely in my palm and I can definitely tell my grip strength lasts longer when I use this kettlebell.  Although I don't compete in kettlebell sport, I do know that maintaining proper grip is an important element to succeeding at the sport.
Come to think of it, this applies to non-competitive kettlebell training as well.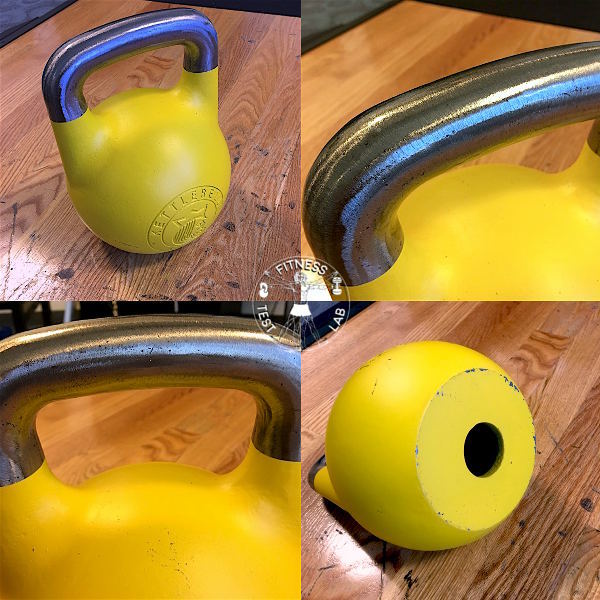 The competition kettlebells from Kettlebell Kings have moved away from a bare steel handle finish to a pitted finish. this change helps improve grip if you don't intend to use chalk, but it also helps retain chalk for those that do need it.
For those interested in kettlebell sport, Kettlebell Kings Competition kettlebells meet all major Kettlebell Sport Competition Standards.  Kettlebell Kings offers several sets of competition kettlebells at a discount, which will go a long way to getting you outfitted for kettlebell training at a lower overall cost.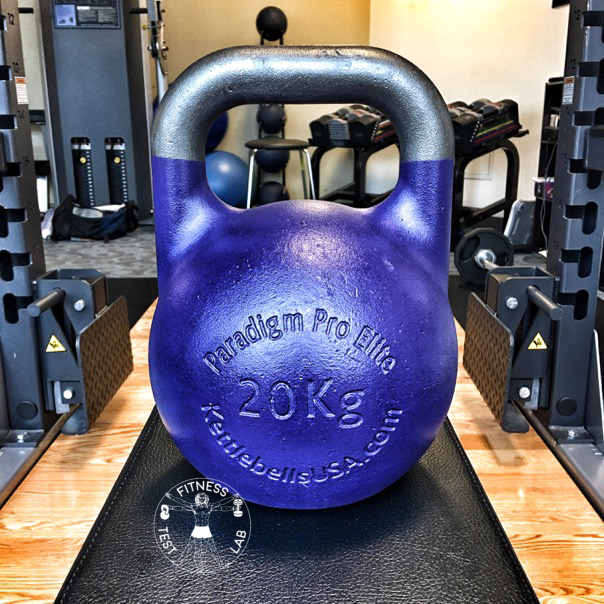 The Paradigm Pro Elite kettlebells are designed from the ground up to be high precision fitness tools. These kettlebells are cast as a single piece of steel with no seams, burrs, or welds and no filler material. This is just an all around well made kettlebell that is very comfortable to use for long periods.
The feature I like the most about the Paradigm Pro Elite kettlebells is the finish. The steel is finished slightly rough and provides more grip than most competition kettlebells typically finished smooth. The rougher finish also holds a lot of chalk. The handle window is wide enough to fit two hands in, which is great for two-hand swings.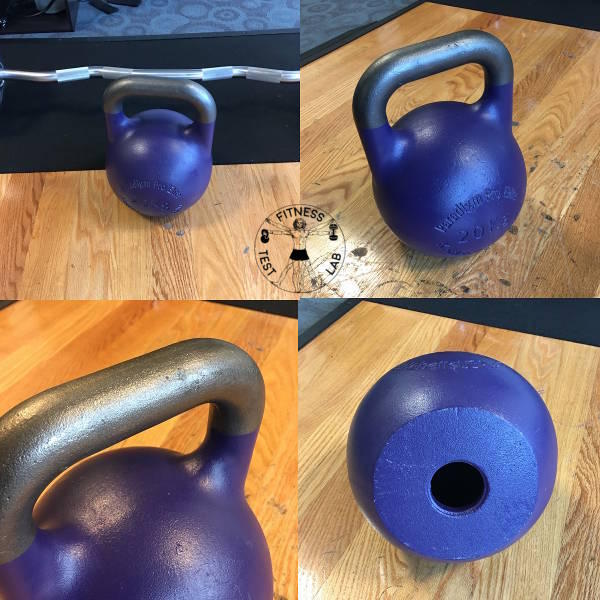 For those interested in kettlebell sport, the Paradigm Pro Elite Precision  kettlebells meet all major Kettlebell Sport Competition Standards. Kettlebells USA offers many two and three kettlebell sets that sell for less than the combined price of individual kettlebells, so if you're planning on buying more than one consider purchasing a set to save some money.
Competition Fitness Kettlebells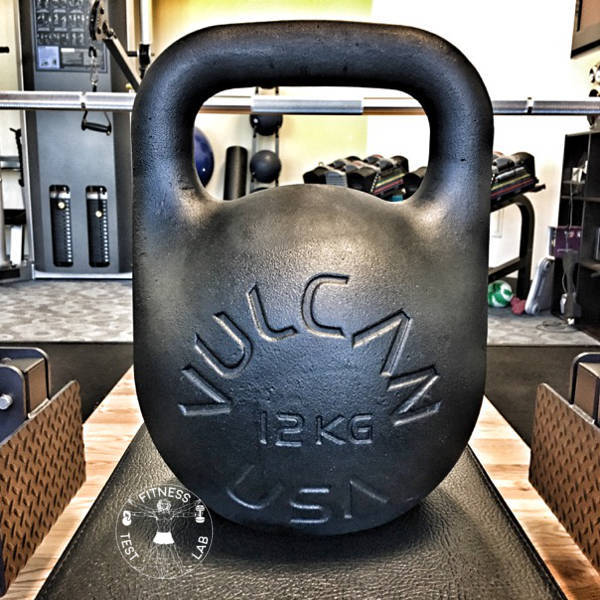 The Vulcan Absolute Training kettlebell is unique among all kettlebells I've worked with. It's the only competition-sized kettlebell made of steel covered entirely in a powder coating. The handle is wide enough for two hand swings, and the finish is excellent. There are no surface imperfections visible to the eye and the handle is very smooth to the touch.
The powder coat has the kind of chalky texture I like. It provides just the right amount of grip without generating friction. This type of coating allows for high-rep snatch and swing sessions without the need for chalk. The Vulcan Absolute Training kettlebell is an excellent option for anyone who wants the benefit of standard sizing but doesn't intend to compete in kettlebell sport.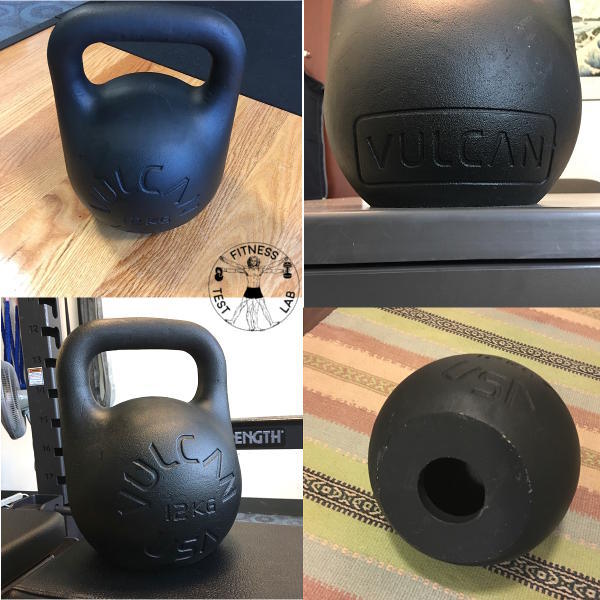 For more details on the Vulcan Absolute Training kettlebell, read my  full evaluation and review.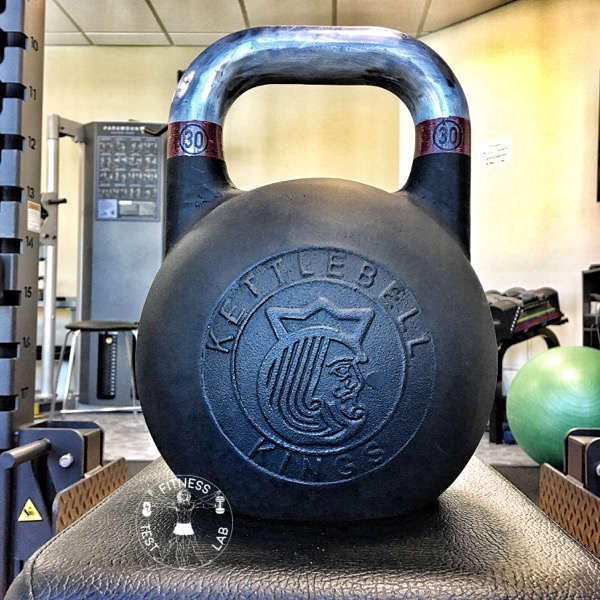 Kettlebell Kings Steel Standard
kettlebells are modeled after steel competition style kettlebells but made for the non-sport market. These kettlebells are weighted in five pound increments rather than kilograms, removing the need to do kilogram-to-pound conversion math in my head. Kettlebell Kings is the only company making steel competition style kettlebells in five pound increments.
The handle is a bare metal finish that holds chalk well and the finish is a matte black paint. The Steel Standard kettlebell is ideal for anyone who wants to train with kettlebells of a consistent size but does not intent to train for kettlebell sport.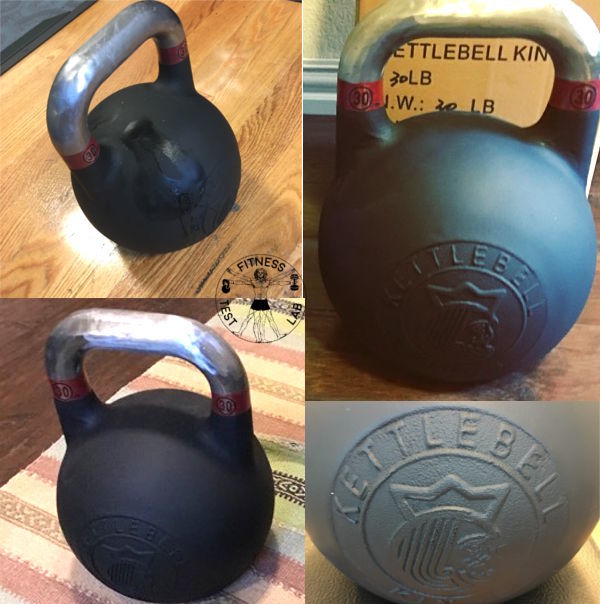 What's the best kettlebell I can buy?
Good question. I'm intentionally not providing a specific recommendation because the answer depends on several factors that vary from person to person. What's right for me may not be right for you. My goal with this kettlebell buyers guide is to provide as much objective information as I can so you can make your own informed choice. If I haven't done that, voice your opinion in the comments and let me know what other information you'd like to see.
Wrap up
Kettlebells are not all created equal. There are several factors to consider when choosing a kettlebell, and this guide should answer most common questions. I sincerely hope you've found this kettlebell buyers guide to be useful. If you have questions that I didn't cover, add them in the comments and I'll do my best to address them.