Kettlebells are one of my favorite fitness tools. They hit the sweet spot between effectiveness and affordability, and they don't require a lot of space to use or to store.
I run a kettlebell club at my work office twice a week, and as a result I've built up a library of workouts that can be done with a single kettlebell.
Single Kettlebell Workouts
All of the following kettlebell flows are designed to be done with a single kettlebell within 25-40 minutes, depending on how much rest is taken between sets. If you have more than one kettlebell available to you, some of the workouts can accommodate different sized kettlebells to change the difficulty level.
I'll be adding to this list as time goes on, so bookmark this page and check back occasionally for new kettlebell flows. Videos that demonstrate all the workouts will be posted as soon as I can find time to record them.
If you're looking at buying your first kettlebell, check out my kettlebell buyer's guide for advice on how to select a quality kettlebell, sizing guidelines, and a few brand recommendations.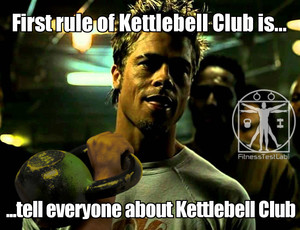 Beginner Level
The Basic
This is the first kettlebell workout anyone new to the kettlebell club is taught after learning how to properly perform a two-handed kettlebell swing. The focus is on reinforcing the hip hinge pattern and opening the hips and shoulders.
Don't let the simplicity of the workout fool you – The Basic is a beast if you use a heavy kettlebell, especially for the goblet squat to overhead press.
5 rounds:
20 two-hand swings
10 goblet squats to overhead press
10 single-leg (or kickstand) deadlifts
10 pushups
rest till you catch your breath
Furious Five
Once a newcomer to the kettlebell club is comfortable with two-hand swings, we introduce five basic one-hand movements – swing, snatch, clean, press, and squat. The high pull is substituted for the snatch until the lifter is comfortable with controlling the kettlebell with one hand.
5 rounds:
5 swings
5 high pulls or snatches
5 clean and press
5 squats
switch hands, repeat previous kettlebell series
10 pushups
rest till you catch your breath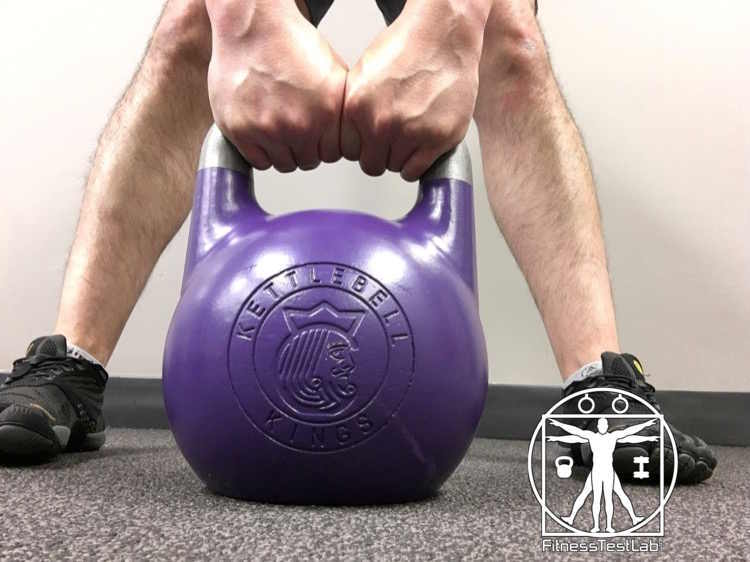 Beginner+ Level
Sinister Six
Once a lifter has been practicing for a while and is comfortable with the five basic movements in the Furious Five, we introduce two new moves: The overhead lunge and crazy eights (aka figure-8 to static hold). Crazy eights require more coordination by the lifter since they involve a hand switch every rep.
5 rounds:
5 swings
5 snatches
5 clean + press + lunge
5 crazy eights (kettlebell should end in hand opposite of your starting hand)
repeat previous moves with your other hand
10 push ups
rest till you catch your breath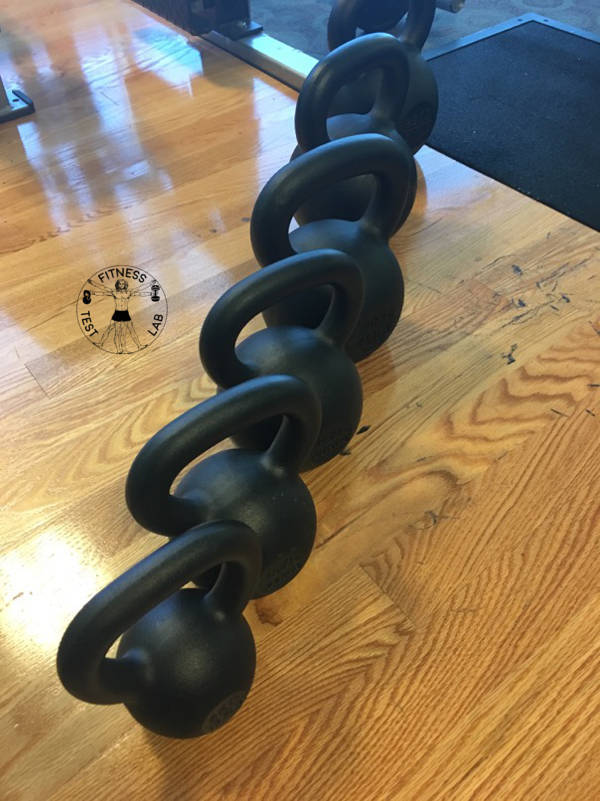 Intermediate Level
The Afterburner
I first came up with this routine when I was short on time but still wanted to get in a workout. One round takes about 10-15 minutes depending on your speed, so if you need something quick one round with a heavier kettlebell is a great way to blast your entire body.
The afterburner requires the lifter to be able to smoothly switch hands mid-air between every swing, which requires increased coordination and focus. It also introduces the windmill and a move I call "up and over" for lack of a better name. This is a move that incorporates elements of pilates for increased core strength.
Watch the video below for a demo of an up and over.
2 rounds:
50 swings, switch hands each swing
10 snatches with each hand
10 clean + press + windmill with each hand
10 squats with each hand
10 up and overs
20 pushups
rest till you catch your breath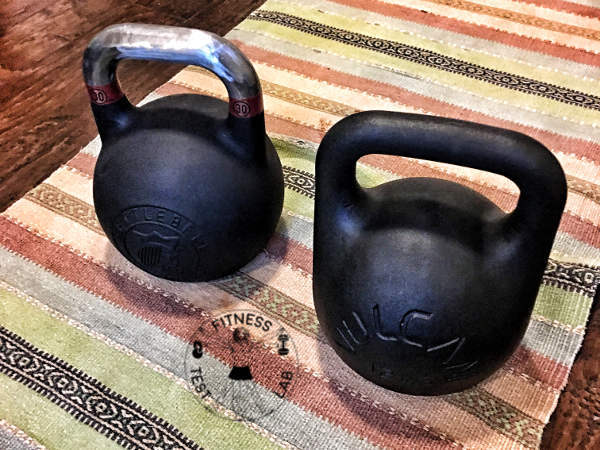 Furious Five Reloaded
This workout takes the beginner Furious Five workout and cranks the intensity up a notch. Less rounds but more work per round.
3 rounds:
10 swings each hand
10 snatches each hand
10 clean and press each hand
10 squats each hand
10 burpees
rest till you catch your breath
Intermediate+ Level
The Gutbuster
This workout is called the Gutbuster because it's a lot of work and probably take the longest to do of all the routines so far. It introduces a move called the tabletop press, which requires the lifter to be comfortable in a deep squat.
At the bottom of the squat, reach back to the floor with your free hand and lean back into a one-handed hip thrust while simultaneously pressing the kettlebell toward the sky or ceiling. Bring the kettlebell back down as you rock yourself forward into the squat position, then stand back up.
3 rounds:
50 swings, switch hands each swing
10 snatches per side
5 clean + squat + tabletop press per side
10 crazy eights
5 up and overs
10+ pushups
rest till you catch your breath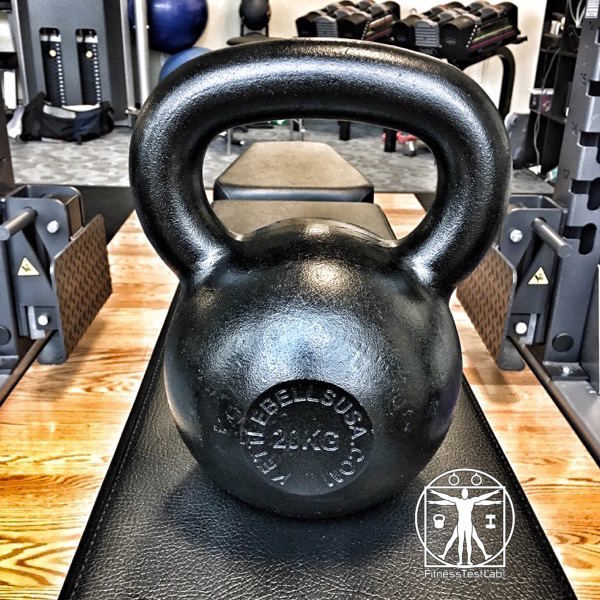 The Oddballs
The Oddballs is named the way it is because it incorporates moves that don't show up in any of the other workouts.
This workout includes a move I call the hero punch, which is essentially an overhead press as you pivot 90 degrees in the direction opposite of the arm holding the kettlebell. For example, if you're holding the kettlebell in your right hand you pivot to the left as you press upward.
I named it the hero punch because it reminds me of pumping a fist in the air after a victory!
The dead snatch is just a snatch started from the ground instead of a swing.
3 rounds:
50 swings, switch hands each swing
 5 clean + hero punch per side
5 dead snatches per side
5 single arm rows per side
5 single leg deadlifts per side
10+ burpees
rest till you catch your breath
Intermediate++ Level
The Punisher
In retrospect I shouldn't have named this workout The Punisher, because I can never get the other members of my office kettlebell club to do it with me ?
To be fair, 100 swings is intimidating but if you've been doing the other workouts and you can do 50 swings for multiple rounds then I guarantee you can do 100 for one round.
I think the only tricky part of this workout compared to previous ones is the kneeling getup after the tabletop press. This move requires some familiarity with kettlebell get ups, where you start from the ground with the kettlebell elevated above you and proceed to carefully move to a standing position.
After the tabletop press, you'll basically transition into the second half of a get up by pulling the leg on the same side as your supporting arm underneath you to get into a bent knee position.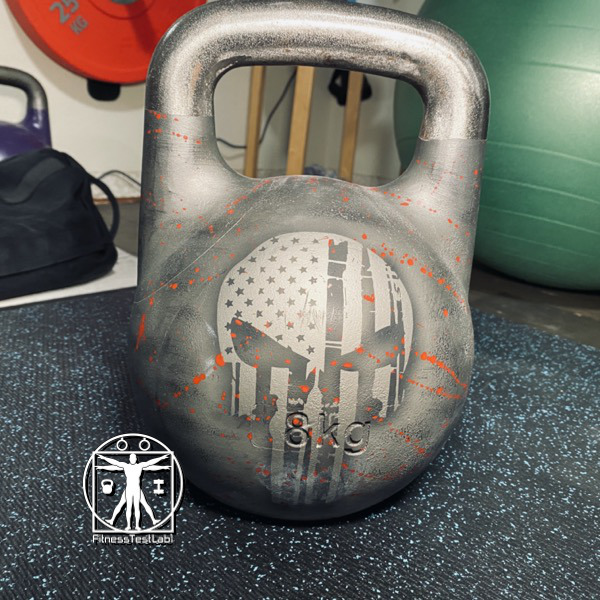 The Punisher is only one round, but it's a lot of work stuffed into that one round. The entire workout can be done in under 20 minutes if you keep moving and don't go crazy on the kettlebell weight.
1 round:
100 swings, switch hands each swing
 2 sets of 5 snatch + windmill per side
2 sets of 5 clean + squat + tabletop press + kneeling getup per side
40 crazy eights
15 up and overs
25 push ups
rest till you catch your breath
That's all so far, stay tuned for updates as time goes on!